ZenGrip Go Ice Edition Bundle
ZenGrip Go Ice Edition Bundle
ZenGrip Go Ice Edition Bundle
Hurry!
only

1023

left in stock!
Description
The ULTIMATE holiday gift bundle for yourself or a loved one!
Oh snap! We're taking it back to the 90s with our coolest looking ZenGrips yet.
Introducing our ICE Edition Holiday Bundles, featuring a radical, transparent glacier design ZenGrip - available for the Nintendo Switch Lite®. Nice.
Includes:
Ice Edition ZenGrip Go
Ice Edition ZenCase Go Elite (Black)
Ice Edition Shoulder Strap (Black)
3ft USB A - C charging cable
(2) Black Thumbpads
(2) White Thumbpads
The following shipping options are available at checkout:
Domestic + International Shipping Available
2-Day USA Shipping Available
2-Day Shipping
Available 2-day shipping for all US addresses.
Buy American
Owned, operated and designed in California.
Gamers Love Us
More than 20K 5-Star reviews. Really.
REVIEWS
Customer Reviews
Filter Reviews:
design issue
occasion
battery charger
underside
edge
plate
usb cable
finger
length
angle
Maram A.

Saudi Arabia
11/25/2021
Amazing
I am the type of person to always keep a protective silicon case on all my devices. As soon as I got the ZenGrip Pro I put it on my switch and immediately loved it. It is very easy to put in and pull out the switch and I don't think I can accurately describe how comfortable it is. I will definitely recommend this to friends!
Noe M.

United States
11/24/2021
MUST BUY!!!
Words can't describe the joy of experiencing the Satisfye grip. The ice version is so rad!
Thomas S.

Netherlands
11/24/2021
Excellent quality
I wholeheartedly recommend this product. The build quality of both the grip and the case is extremely good. The comfort of the grip has elevated my gaming experience. I mainly bought it for the grip and case, but the added thumbstick grips l, angled cable and joy-con sliders are a nice "ICING on the cake" bonus! 10/10 would buy again!
Jorge S.

United States
11/20/2021
Sucks the case isn't sold separately
I really like the product I just hate the fact that I bought the controller grip and then a year later when I needed the case I couldn't buy it separately.
Christopher F.

United States
11/19/2021
Worth the money
Its was really good
Omar S.

United States
Daniel R.

United States
11/12/2021
Always on the Go
I love it. I use it everyday. Super convenient.
Linda p.

United States
11/09/2021
Excellent mfr. Product
I know my switch pro is totally protected. Everything has a secured place. I just love it. Got quick delivery. The thumb cover things I CANT get on, but that's because I have old hands. Maybe you can design a model that is easier to put on. I'm sure it would reduce the pain in my thumbs if I could get them on. The clear grip does help with reducing the hand pain. Every game device should have this. I give you 10 stars! Thank you linda
Alfonso M.

United States
11/06/2021
Great
Great quality, design, and skin.
Chris P.

Canada
10/29/2021
Amazing product
I don't usually like using grips but I ended up finding a used satisfye bundle for my regular switch for cheap so I bought it, and loved it, I ordered the lite grip next chance I had and it's great, it's sooooo much more comfortable, no more hand cramping, and it gives me alittle more assurance that I won't drop it lol oh, and the semi hard Shell Case is awesome, I love having a strap to secure the switch in place, not to mention the game storage, cable storage, and extras it comes with. If you have a switch and have cramping issues a satisfye grip will solve them, love this product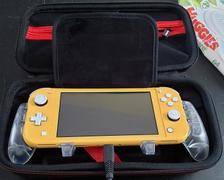 Jack M.

United States
10/27/2021
Excellent product
It's a great product for those of us who's hands can't handle playing the switch for long periods of time. The case is super heavy duty.
ALEJANDRO A.

United States
10/20/2021
The best set of accessories
More comfortable gaming sessions for hours. And it changed the way using the switch lite without a grip. Great quality grip and worth the purchase.
Kevin S.

United States
10/20/2021
Good stuff!!!
I'm new to the Switch world and saw a Youtuber "Beatemups" talk about how awesome the grip and case were. The price was right and I decided to give it a shot so I ordered the Pro Ice Edition Bundle. I tend to primarily play in docked mode, but having the ability to let the wife use the TV while I sit in a comfy chair and play was appealing. This grip should do the job nicely. AND IT DOES! It fits perfectly around my Mario Edition Switch, with out scratching or damaging it. The grip is very comfortable to hold and allows easy access to all of the buttons so my game play isn't impacted at all. I love it! The case is nice great too! It can hold my switch, joy cons, all the cables, the grip, some games, and my anker battery pack with ease. And it isn't super heavy either. All in all...good stuff! I recently ordered the Limited Edition "BeatemUps" grip too. LOVE IT
Christian G.

United States
10/19/2021
Great
Loved it great for big hands
Mikyle K.

United States
10/16/2021
100% worth it!
At first when I first got the product, I thought it was a bit clunky and large, but that was because I had been so used to playing handheld without it. So I used the Satisfye grip for about 3 hours straight, then I took it off and that's when I realized how amazing this product really was! Great build quality!