The ZenGrip™ Pro Slim Bundle for the Nintendo Switch®
(Domestic + International Shipping Available)
Includes: ZenGrip™ Pro,  Pro Slim Case, Two (2) Thumb Pads
Description & Features
What's Included
Our next generation ZenGrip™ Pro Slim Bundle features the new ZenGrip™ Pro, our new ZenGrip™ Pro Slim Case which holds the Switch + ZenGrip™ Pro with room for 10 games and small accessories like earbuds, USB cable, plus two (2) ergonomic thumb pads for maximum comfort and control. It's everything you need to level up your gaming skills.

The Slim Bundle includes:


ZenGrip™ Pro - The asymmetric design and refined angle of our ZenGrip™ Pro makes it perfect for comfortable, extended gameplay.


Third Generation Slim Case - The ZenGrip™ Pro Slim Bundle combines the ZenGrip™ Pro with our sleek, low profile case for maximum mobility.

Two (2) Thumb Pads - Slightly raised surface with added texture for superior control.

The ZenGrip™ Pro Slim Bundle Comes with a Three-Year Limited Manufacturer's Warranty.




Items included:

ZenGrip™ Pro

ZenGrip™ Pro Slim Case

Thumb pads (2) for Switch
Customer Reviews
Write a Review
Ask a Question
Filter Reviews:
grip
Switch
case
hands
mode
Satisfye
bundle
games
quality
experience
Best switch grip ever made
This grips is fantastic! I hated the wait time for this to get delivered but was so happy with how it felt that I eventually caved and order the limited edition red slim bundle as well! If Nintendo doesn't like make the new switch to be announced next year to be the same size to fit this grip I will be so angry because I literally did not play my switch until this grip showed up.
Fantastic Switch grip!!... except for one thing
The Satisfye pro grip is wonderful. It is very comfortable, especially for adult sized hands. I was a bit skeptical about the right grip being a different angle than the left but it makes perfect sense consider the joy on layout is different. This makes for an appropriate grip that prevents arm and hand fatigue. I am now able to play Fortnite in portable mode much without my hand and arm cramping up! The only downside to this grip is that it scratches off the paint on the Joy-Con Outer edges after putting on and removing the grip. It doesn't take many times which is a bit disappointing but not it's not bad enough for me to stop using the grip. Perhaps Satisfye will modify the grips in the future to prevent this from happening or maybe line the inside of the grip with a super thin microfiber material of sorts. This is the only reason I didn't give a 5 star review.
I just got the pro bundle.
Man i didn't know you guys was making a red and black grip man i need it but i guess my regular will have to do.
Great product!
I just opened my Limited Edition Holiday Bundle and I am blown away! This Pro bundle looks to be the same as the holiday bundle-except the holiday bundle came with red handles. Otherwise the case is fantastic, I like the holder for additional game cartridges, looks simple yet professional. I also like the included grips as I haven't been a huge fan of the thumbsticks on any controller I've purchased. Definitely worth the money!
F***... You guys are awesome.. Just take my money
I purchased two Pro Gaming Grips and they are amazing. A must have to people with large hands. It makes a total difference playing on Switch
09/07/2019
Joseph S.
United States
Great for adults playing on the go
I initially bought this as a present for a friend of mine and after holding it myself picked up one for myself. I am in my 30s and play my Switch mostly on the go. This was difficult because of my large hands and the lack of grips on the Joy-cons. I normally don't buy stuff like this because I like vanilla systems but I'm very glad I bought this. It feels much more comfortable and allows me to play for longer. Very pleased with my purchase!
Great Addition to the Switch
Awesome using this, feels much better using the controls now, especially the right analog switch. Only wish you had better methods for selling to Canada...
Slim case for fantastic grip!
Hello there ! Got email from satisfye about this & ive ordered it strait away because i need slim case form my grip witch I've received in september..great grip! comfort & cramps free! Also I'm not fan of neon coloured joy cons.. got grey and red so will match my both pro grips. Many thanks
Slim case for fantastic grip!
Hello there ! Got email from satisfye about this & ive ordered it strait away because i need slim case form my grip witch I've received in september..great grip! comfort & cramps free! Also I'm not fan of neon coloured joy cons.. got grey and red so will match my both pro grips. Many thanks
LM
03/20/2020
Loy M.
Thailand
Fast Delivery Great Product.
Initially I had a problem with the delivery because I was based in Thailand (with the COVID-19 scare), so my delivery never reached me. However, thanks to the flexible & proactive approach by Satisfye, I was resent the product asap. 5-star for this attitude & the product. I highly recommend them.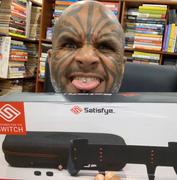 10/09/2019
HellRay
United States
Went Pro, passed down to Bro
I preordered knowing I was gonna get a better experience based on the previous Switch Grip I got from them. Not sure how exactly but the hold I have on this grip is even better, like I can play this while forgetting I can just go dock mode with my Pro Controller when I can. Its just that natural feeling and I love it. The nubs I got feel the same as ever, so I didn't mind giving them as well as my old quality Satisfye grip to my younger brother while keeping my old ones on, best handmedown ever. I much prefer the handle on the Pro case than the strap on the last one, even though it had a sense of style I appreciated. I like having that grip on on it when I carry my precious switch around. The felt inside I couldn't describe when I brushed my hand across it. Can only describe the plush interior as a absolute luxury for the switch and provides a calming feeling between packing up and taking out my gear, a absolute plus I wouldn't trade down for now that I experienced it. I still love how my games feel secure in the little strap pockets that add extra protection to my already screen protected switch, a carryover from my last Satisfye bunduru earlier this year. One thing I noticed was when my Switch is zipped up in the case and press down on the top, I don't feel the axis control sticks anymore even with the nubs on them and i appreciate that little innovation. The zippers also dont feel cheap, and are quite durable. After years of handling shotty breaking zippers and fingering the broke hook on some to get to my devices, this is very reassuring. I can tell Satisfye cares about their products and customers and cant recommend the Slim Grip bundle enough.
02/19/2020
Marius M.
Norway
You NEED this if you like playing your Switch in handheld mode!
In short - The grip is AMAZING. It offloads a lot of stress on my hands, especially over long periods of time. Love this for travel, and I am one of those people who play it more handheld than docked. The case is sturdy and secure, and the grip feels super nice. The plastic/rubber is a lot grippier than I expected. 10/10 would recommend!
01/22/2020
E. Mendoza
United States
Great Grip, No option to buy the case individually
So I love the grip, hands down best grip on the market. I bought it cause I wanted try out the grip before I committed to other products Satisfye sells. The previous one I bought from a different brand was not that great and caused my hands to cramp. However, this grip solved that problem and made it much more enjoyable to play my switch lite. I wanted to buy the case as well so I can protect the grip and switch as the one I bought previously didn't fit the switch/grip. However, they don't sell the case individually. They only sell it in a bundle with another grip and other accessories. I would literally give this company more money if the sold the case separately. I don't need all the other things/grip that comes with the bundle so I don't want to be forced to buy something I don't need. Would be a 5-star review hands down if you were able to buy other accessories separately (mainly the case).
11/20/2019
Charles R.
United States
More than I could have ever hoped for!
This grip seriously kicks ass, I've tried so many switch grips that just are loose or don't quite provide the amount of comfort that I would want from a Switch grip case. I personally feel the Satisfye SwitchGrip Pro is at the very top when it comes to comfort and quality from the few months I've spent with it so far, I honestly didn't think I would find something this perfect for my Switch to be played in portable mode. The slim case that came with my bundle is also an absolute godsend, I hated always having to take my previous grip cases off if I wanted to feel more comfortable about carrying my Switch around in a bag, with this bundle I don't have to worry anymore. Seriously if you're considering this product or any from Satisfye you're doing yourself a favor by getting it, their stuff is damn good.
11/04/2019
Kirk M.
Canada
Def recommend
Great grip, and the case is super convienent. I pretty much only play handheld and it makes it so much better