Introducing the ZenGrip™ Pro Tropical Edition
Available in 
Sky Blue
 or 
Palm Green
Items included:
Tropical Edition ZenGrip™ Pro + 

ZenGrip Pro (black)

Tropical Edition Thumb Pads in Blue (2) & Green (2) + Black (2) 

Elite Grip Case
Shoulder Strap
USB A to C & USB C to C cable
Controller Rail
Customer Reviews
Filter Reviews:
Switch
case
Satisfye
grip
bundle
mode
dock
hands
experience
Nintendo
Rocky W.
United States
11/26/2020
Perfect grip color and shape!
Bought this for my wife and she loves how well it matches her Animal Crossing switch. We love Satisfye products and have these grips for all of our switches (waaaaaaay too many). Can't wait to see what new colors and enhancements can be made as this grip is already pretty dang perfect!
Christopher W.
United States
11/19/2020
Looks great, feels great!
Works totally as advertised. Fits perfectly onto the Switch and the material feels really good to the touch. My hands don't cramp up playing anymore!
Alexander V.
United States
11/16/2020
Reduces fatigue.
Great. Would recommend for any switch user.
John M.
United States
11/13/2020
Greatest Grip Ever
The Joy Cons Were Uneven But With The Zen Grip It Became Supremely Even And Stable,Had 0 Issue.
Ancrawl D.
United States
AJ G.
United States
10/21/2020
Fantastic value in the bundle; Great product!
I purchased this for my wife as she plays almost exclusively in handheld mode. I prefer docked mode in almost every way, and still do to this day, however this grip drastically increases my comfort level when playing handheld mode! And the wife loves it! The grips themselves feel very nice in the hands! They are heavy enough to fee like they're made from quality materials but they are not too heavy to be comfortable for either of us. I thought the offset grip would be kinda awkward but it feels great! The case in the bundle is well-enough made; sturdy but still clearly some sort of cardboardy-type material. The fit and finish of all materials in the bundle is very nice. and this includes the texture on each item, too! The inside of the case is a soft material (especially the part that rests against the Switch's screen) and doesn't seem like it would scratch or scuff the Switch in anyway. There are even spots for game carts on the flappy bit that protects the screen and a space underneath where the grip and Switch reside for a battery bank - genius! Overall we are both very happy with these products and I have already recommended the grips to several people. Would happily buy from Satisfye again!
Michael M.
Germany
09/26/2020
Best available
When I got my Switch I really enjoyed it. I have super big hands, so it was really painful and sometimes impossible to enjoy handheld. So I was looking for some here in germany. The reviews I read about some OTHER products...."damages screen..." "feels shaky".... not satisfied! I always want to have the best things available. When I read about Zen Grip I knew thats it! Its high quality, feels awsome, sits really tight. Dream of handheld now. Im very happy to have it. Buy the full package if you love your Switch. I got two bags, Switch with grip on only and the other big one for traveling. Enough place here for game cards, power bank on the bottom. The 90° high quality cable for that is even included! The only thing Im working out right now is wich power bank I should get for the switch, which fits perfectly on the bottom. So much high quality stuff Im really happy Its totally worth it!
Dennis B.
Netherlands
09/25/2020
Best Switch grip!
Feels great in your hands. Make you wanna play on your Switch longer. And the other accessories are a must have!
Perry S.
United States
09/21/2020
Best grip and carry case!
Love the grip and case combo! Waiting for you guys to make an all inclusive carry case. Bring all peripherals. Awesome product. Love mine! I've recommended to many friends. A+++
Lance R.
Canada
09/20/2020
Great Product
Recently purchased and have been using daily since arrival, quality is very high no defects or issues all items are sturdy and work perfectly, honestly i think its better then what i was even expecting. I would recommend this bundle to anyone only personal choice item included would be the joystick caps/covers some people may not prefer to use them while others would love them i like both the original feel as well as the joystick caps/covers i'm rather split on a single opinion.
stephen b.
United States
09/11/2020
i love this bundle
i am overly statified with this bundle, having the different options of a small and large case for all ways to travel and necessity of destination is wonderful
David L.
United States
08/28/2020
Great value
This bundle is well done and well worth the price, I tried other grips at the same price point and was very disappointed, this bundle provides tons of accoutrements... great product
DB
Dennis B.
Germany
08/27/2020
Great
Nice Thinge, great support
Jesse S.
United States
08/24/2020
Best and only grip for me
I have tried quite a few grips for my switch. I was looking for style and most of all, comfort. I must say, Satisfye is the best grip for me. It's very comfortable and my hands doesn't hurt even after playing for hours. Not only does it look good, the grip feels awesome in my hands. I can't recommend this enough! And just so you know, I just got my 2nd epic bundle. 2020 is not that bad after I got this. Satisfye is simply awesome!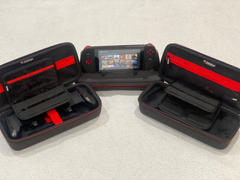 Eric H.
United States
08/21/2020
love it pleas consider it sooner then later.
much better for hand grip over all. if you have arthritis but wont to play the switch on the goo this is a must. the grip on the right side is off set to help ergonomics of your hand that swaps with joystick and buttons it felt weird at first but you get used to it quickly and will appreciate it later.