ZenGrip Pro Elite Bundle
ZenGrip Pro Elite Bundle
ZenGrip Pro Elite Bundle
Hurry!
only

1415

left in stock!
Compatible with Switch & Switch OLED

NOW IN STOCK
Description
The Ultimate Gaming Bundle for the Nintendo® Switch
Includes: ZenGrip™ Pro + ZenCase™ Pro Elite + 3 ft USB C-C Cable + Controller Rail + RyzePad™ Wave (Mid+High)
The following shipping options are available at checkout:
Domestic + International Shipping Available
2-Day USA Shipping Available
2-Day Shipping
Available 2-day shipping for all US addresses.
Buy American
Owned, operated and designed in California.
Gamers Love Us
More than 20K 5-Star reviews. Really.
REVIEWS
Customer Reviews
Filter Reviews:
grip
Switch
case
hands
quality
everything
mode
bundle
Satisfye
games
08/09/2022
Excellent Product.
A quality product. Fits the Switch perfectly. Plenty of room for accessories. The grip is amazing and fits my Switch OLED. I recommend this product.
Pranav S.

United States
08/09/2022
Fantastic Product
Playing my Switch is so much less straining with this grip.
Samuel L.

United States
08/07/2022
Satisfye gaming grip
I think this is a great add on for the nintendo switch. I've been using it for a few weeks now and it's been extremely comfortable to use.
Kenneth L.

United States
08/06/2022
Great product to make you play switch longer
The grip is actually super satisfying to hold and play on the go. Makes those games you play in hand held wayyy more fun.
Travis S.

United States
08/05/2022
Amazing!
I love it! Worth every penny for my switch oled
Vernon M.

United States
08/05/2022
Everything great
I love the grip and all the other items only thing is I didn't get the strap for the carry case.
Ethan S.

United States
08/04/2022
Almost Never Remove it!
I've been using my Switch in handheld mode recently, so the grip has been a godsend. The only issue I've had is the smaller of the two Ryzepad things comes off fairly easily but is typically a quick fix.
Benjamin

United States
08/03/2022
Excellent product, but it really makes me want...
I love the grip, I love the case. It makes me wonder how hard it would be for you guys to build a special dock that allows you to keep the grip attached to the switch while plugging into the TV. That just goes to show I think the grip is an excellent addition to my switch experience.
Andrew D.

United States
08/01/2022
Made the Switch
Materials were solid and I have made the jump from the Nintendo case products. The only problem has been is the case strap was missing.
Matthew M.

United States
07/30/2022
Must Buy
I am absolutely blown away by the zengrip 3. I have been eyeing satisfye grips up for years and never pulled the trigger. I've had my oled since October and once again considered it and never got around to placing an order. I got one a couple weeks ago and I am in disbelief at what an incredible product this is. I used to be primarily a docked player..the grip hasn't left my switch once since I got it. Aside from some local multi-player when company is over I don't see myself docking this thing again. Feels like holding a pro controller and has changed the way I use my switch. Fast shipping and delivery. The elite case bundle is worth every cent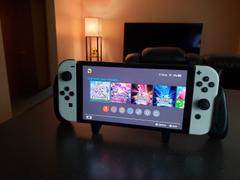 clayton m.

United States
07/29/2022
Zengrip bundle
Awesome Handel's feel great case is great for carrying from place to place.
Seth L.

United States
07/26/2022
Zen Pro Grip
I like this product a lot it is very satisfying just wish it came with the strap because it was Elite bundle.
Blake N.

United States
07/26/2022
Better than expected
Recommended from YouTuber's and other friends online. I am shocked how much better this makes my Switch OLED feel in the hands. Thanks again!!
Ryan M.

United States
07/25/2022
good
Good product would buy again 10/10
Ian J.

United Kingdom
07/24/2022
This is my second purchase
I bought a ZenGrip Pro Elite Bubdle for my OG Switch, but I recently purchased the OLED switch and so since I liked the first purchase it was a mush purchase for the second switch, the grip is excellent for people with large hands and very quickly start to get craps in the hands if a grip is not used plus with rigid carrying case the switch is perfectly safe from drops to items falling in it, if you own a switch this is a per chase that you will not regret,I liked the product so much I bought it again.