Pre-Order Special Pricing - Ships out November 10 from the US
Oh snap! We're taking it back to the 90s with our coolest looking ZenGrips yet.
THE ULTIMATE HOLIDAY GIFT BUNDLE FOR YOURSELF OR A LOVED ONE!
Introducing our ICE Edition Holiday Bundles, featuring a radical, transparent glacier design ZenGrip - available for both the Nintendo Switch and Nintendo Switch Lite. Nice.
(WHAT'S INCLUDED/BUNDLE DETAILS)
Ice Edition Pro Grip

Ice Edition Elite Grip Case (Black) 

Ice Edition Shoulder Strap 

(Black) 

(2) Ice Edition Controller Rails

3ft USB A - C charging cable
(2) Black Thumbpads
(2) White Thumbpads
Customer Reviews
Write a Review
Ask a Question
Filter Reviews:
grip
case
Switch
hands
quality
bundle
Satisfye
mode
everything
color
01/25/2020
Dennis D.
Netherlands
Very very good product.
I love the bag, it's durable and i like the style! However, I've paid 53 euro to ship it to Europe. I really wanted it so I'de paid it, but warn us of the shipping costs before.
02/20/2020
Calista C.
United States
This should come with a official Nintendo sticker
I've been using grip for over 3 months ( as of writing this) and I have to say, its an Essential and perfect Accessory that all Nintendo switch should buy. Especially if you have bigger hand. This switch grip has helped and eliminated most to all of my hand strain. I use to play in tv mode Is my preferred method to play my switch. Not to sound cheesy Infomercial, but after buying this grip, my preferred way to play the Nintendo Switches has been in handheld mode. I have recommended this product to every switch owner I know. It one of the most Satisfying gaming Products I have ever Purchased . Thank you Satisfye.
Great Overall Value
This is the best grip add-on in the market by far.
RL
02/20/2020
Ryan L.
United States
Great Product
Awesome product. The quality is great and it does make using the Switch in portable mode so much better. Thanks ReviewTechUSA.
02/12/2020
Elias H.
Canada
amazing quality would recommend to any switch owner
The case has tons of space to store 19 switch games as well as most of if not all your accessories including a power bank to charge your switch on the go on top of that it is also incredibly durable and the inside is nice and soft so that nothing scratches the switch. The other things the bundle came with were top quality too such as the two joycon rails which alows you to keep them together which alows for easy storage of four extra joycons, a shoulder strap for an easier time carrying it, a USB A to C wire long to use with a power bank you can store in the case and the portable switch grip which i thought i would never use but now i use it whenever i put my switch in portable mode and its especially helpful for action games. The only thing a bit iffy about are those rubber things you put on your controller sticks as they make it hard to use them effectively but thats minor in comparison to everything else you get and like everything else you get you can choose not to use them so no big deal. I will recommend this too anyone who takes their switch on the go alot it is more then worth the asking price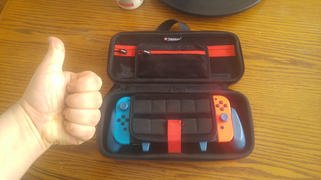 V
11/08/2019
Virginia
United States
Must Have!
I've had my Satisfye grip for awhile now, back when the first iteration was around, I've purchased and use the 2nd one and I just love it. Last night I tried to play without the grip and it was just so uncomfortable, I couldn't play more than a few minutes before wanting the grip back on I've ordered one for my Switch Lite and I'm so excited to use it! The only thing I wish is that I could buy the detachable game holder separately. Maybe one day! *hint* *hint* *wink* *wink*
Makes handheld mode much more comfortable
The title says it all. My wrists would hurt with extended play sessions (1 hour or more) but theSatisfye grip solves this problem. It makes the Switch feel similar to the pro controller. Something else I noticed is that the grip transmits the HD rumble vibration very well so the designers seem to have taken that into consideration. The case that came with the grip is also high quality. It's a rigid, case and offers very good protection.. The ten cartridge storage slots in the case make taking a portion of your collection with you possible as will. Overall, in extremely Satisfied with my purchase
04/29/2020
Karla C.
United States
04/04/2020
Steven D.
United States
Awesome Grip for Switch
This grip is great and lets you play longer without getting hand cramps. I'll be ordering another one soon for my other Switch.
03/30/2020
Desmond C.
Malaysia
Thumbs up
Love the grip but the price is a bit on the expensive side.
03/30/2020
Cheska B.
Canada
03/24/2020
Justin B.
United States
03/16/2020
David G.
United States
02/20/2020
James L.
United States
Well made
Great the case fits the handheld switch and an anker charger for the switch under it.Also the unit for the handheld switch is awesome! No more hand cramps! Didn't dig the limited movement on the controller extensions though so I opted not to use them. Otherwise the purchase is well worth it!