ZenGrip Go Ice Edition Bundle
ZenGrip Go Ice Edition Bundle
ZenGrip Go Ice Edition Bundle
Hurry!
only

547

left in stock!
The ULTIMATE holiday gift bundle for yourself or a loved one!
Oh snap! We're taking it back to the 90s with our coolest looking ZenGrips yet.
Introducing our ICE Edition Holiday Bundles, featuring a radical, transparent glacier design ZenGrip - available for the Nintendo Switch Lite®. Nice.
Includes:
Ice Edition ZenGrip Go
Ice Edition ZenCase Go Elite (Black)
Ice Edition Shoulder Strap (Black)
3ft USB A - C charging cable
(2) Black Thumbpads
(2) White Thumbpads
The following shipping options are available at checkout:
Domestic + International Shipping Available
2-Day USA Shipping Available
2-Day Shipping
Available 2-day shipping for all US addresses.
Buy American
Owned, operated and designed in California.
Gamers Love Us
More than 20K 5-Star reviews. Really.
REVIEWS
Customer Reviews
Filter Reviews:
grip
case
Switch
quality
Satisfye
hands
bundle
design
everything
place
11/09/2022
Never thought I would need one.
I love this, everything about this. Had a protective cover/grip for my light when I first bought it. Never gave it another thought on how it would feel on it. NOW it feels like night and day. I wish I could go back and buy this instead of that one. Thought I feel less safe because if it because I constantly use my Lite and drop it when I least expect it. Thats why I now put in the in the carry case when I don't play with it, but sometimes I forget and have it at edges or almost drop it. If I could, I would buy these for my whole family who have switch's.
Joey K.

United States
10/21/2022
So much more comfortable.
I only had my switch for about a week before I started to feel cramping and pain in my hands if I played for more than an hour. The grips have solved that almost entirely. It's so comfortable to game now. On top of that the case is large with plenty of storage space for accessories.
Joshua H.

Australia
09/02/2022
Don't consider anything else. Satisfye ZenGrip
Thanks to *BEATEMUPS* (Wood) Satisfye ZenGrip has not left the system, extremely comfy grip. Top of the range affordable quality product. The Valero went non sticky quickly. Durable hardshell case, soft material inside. Thumb grips work will, extra protection towards my stock Pokemon edition console.
Derek B.

United States
08/24/2022
Great product
Love the product. The grip looks really cool on my switch lite. I probably won't take it off my switch. Wish I had known about this sooner. Playing the switch without the grip hurts your hand after a while. Using this grip has been a serious game changer for me. And the case is great quality, after I got mine my wife seen it and immediately wanted her own. The fabric inside the case is very soft! Will definitely buy from Satisfye again. Definitely recommend this product if you play switch in handheld a lot!!
Ben H.

Canada
07/23/2022
Good product.
The grip is very comfy and the retro look of the ice fits the look of my old gameboy advance I was going for case seems to be good quality. It delivered sooner than expected so that was good. Only thing about the buying experience was I wish it converted the dollars into my countries currency
Adali R.

United States
06/29/2022
FANTASTIC
ZENGRIP GO ICE EDITION BUNDLE WAS WORTH EVERY PENNY. GREAT QUALITY AND JUST WORKS.
Joshua C.

United States
05/26/2022
best decision ever
i bought a switch lite, and this has been the only grip i've tried that truly made gameplay on the lite a real joy. signed - your average sized adult male.
RAY A.

United States
03/29/2022
not my first purchase
Best quality Grip there is in the market , shipping always quick
Jerry M.

United States
03/19/2022
Zen grip ice edition
Best accessory for the switch. I highly recommend
Brandon K.

United States
02/08/2022
Great product
Absolutely amazing
Jared M.

United States
01/18/2022
Couldn't Live Without
If you own a switch lite. You need this specific grip, trust me. Super comfortable, super well made accessories. 10/10
Tony S.

United States
01/17/2022
Quality of Design
My first impression of the product was great designing and durability. I'm really enjoying using it! Thanks for quality work!
katherine p.

United States
01/16/2022
Finally
Wish I had seen this a year ago. I had found my grip when I got my lite. Excellent grip. I hate taking it off. Like it even less to play without it. Finding a case was difficult. Every other case has been inconvenient requiring the removal of the grip. So, when I traveled I just tossed my system in a bag unprotected. Not ideal but I didn't worry to much since I'm driving everywhere. However, once I saw the Sayisfe YouTube review I jumped on a chance to have my very own zen grip go case. It's awesome! So, very rare to see a perfect fit. I even switched to the ice grip since it came with case.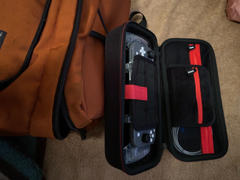 Tim G.

United States
01/02/2022
The best grip and case there is right now
Anthony R.

United States
12/29/2021
Great Accessory
I am always on the go and the ZenGrip Go Ice Edition Bundle provides two great benefits for me. First off the grips allow me to play all of the games more comfortably. It actually makes the gaming so comfortable the grips will never come off my switch lite. Second the carrying case is great allowing me to store the switch lite with the grips and give me more space for other cartridges. I would suggest this as your first purchase after you get a switch lite.