ZenGrip Pro Ice Edition Bundle
ZenGrip Pro Ice Edition Bundle
ZenGrip Pro Ice Edition Bundle
Hurry!
only

2299

left in stock!
The ULTIMATE holiday gift bundle for yourself or a loved one!
Oh snap! We're taking it back to the 90s with our coolest looking ZenGrips yet.
Introducing our ICE Edition Holiday Bundles, featuring a radical, transparent glacier design ZenGrip - available for the Nintendo Switch. Nice.
Includes:
Ice Edition Pro Grip
Ice Edition Elite Grip Case (Black)
Ice Edition Shoulder Strap (Black)
(2) Ice Edition Controller Rails
3ft USB A - C charging cable
(2) Black Thumbpads
(2) White Thumbpads
The following shipping options are available at checkout:
Domestic + International Shipping Available
2-Day USA Shipping Available
2-Day Shipping
Available 2-day shipping for all US addresses.
Buy American
Owned, operated and designed in California.
Gamers Love Us
More than 20K 5-Star reviews. Really.
REVIEWS
Customer Reviews
Filter Reviews:
grip
case
Switch
hands
quality
bundle
mode
Satisfye
everything
color
Wesley H.

United States
01/25/2021
fantastic!
This grip bundle really is the complete package. When my switch isn't docked, it is safely tucked away in this grip, in the case. I cannot recommend this enough, especially for people whose hands get cramped when using the switch for any amount of time. Love it.
sara h.

United States
01/24/2021
pretty good!
everything works as it should. the switched is gripped pretty nicely and the charger makes it easier to play while holding. i do not regret getting this even for the long wait. to me, it was worth it.
Rafik Z.

Canada
01/23/2021
Not bad at all!
Good quality. Cool Color. Smart design.
Amanda V.

Canada
01/23/2021
Love it!
Not only does this grip look cool and bring me back to my days with my Gameboy colour. It's the most comfortable grip. I never play in handheld mode without my satisfye grip!
JO
Jordan O.

United States
01/22/2021
Jordan's review
It felt amazing and easy to carry around.
Joshua C.

United States
01/21/2021
Tis Great
Loving everything about this grip. It's the second Limited edition that I got and is great as well.
Matthew S.

United States
01/17/2021
Excellent grip
I've been playing the switch in handheld more than ever before, due in large part to the comfort provided by this grip. If you have big hands like me, this is all but a mandatory purchase for your switch. I bought the bundle because I was already wanting a case and had the normal zen grip pro- I put a clear she'll on my switch and with the ice edition it looks NICE. A+ product all around.
Bryce S.

United States
01/17/2021
Great accessory!
Makes the console way more fun to play on-the-go. I love the hardcase and all the extra accessories that come in the bundle!
gasparino m.

Canada
01/17/2021
Feels amazing
It feels like I'm using a PlayStation controller it's very comfortable
Kwok R.

United Kingdom
11/04/2020
If only it came themed to fire emblem then it'd be a dream but still worth every penny
very comfortable experience that it has become my thing to use as grip and travel case for my switch. Only minor gripe that I could find with my product is that the grip has a sharp edge on the left underside though its not sharp enough to cut your fingers it can cause discomfort to your fingers if you are gripping it for any length of time though this may be production issue rather than a design issue. One other minor gripe is the usb cable while it is nice and short and at a sideways angle the metal thin plate can be very sharp to the fingers and i have had it cut my finger on occasion when i unplug it from the switch and my battery charger.
SM
Salah M.

United States
07/06/2020
Finally Arrived
The quality is very good, i think this product must have for anyone have Nintendo Switch. I'm very satisfied for this. Oh I forget to say I think that I'm the first one or one of the very few that have your product in Iraq - Baghdad, Thank you for the good work, I hope the best wishes for you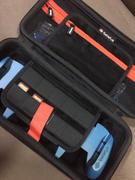 Sanne v.

Netherlands
06/21/2020
Great so far
I only got the product this week, so I am unsure how well I can judge it, as I have no long term experience yet. I got the SwitchGrip Pro + Case. Having played on the switch without a grip for years, it takes some time getting used to one, but it is better every day. It feels very sturdy, and my switch fits very snugly in it. I absolutely love the case. It is huge, but I can finally drag along all of my games, extra accessories AND my powerbank (which is big, so I thought it wouldn't fit underneath, but it does, it fits perfectly!) My only gripe was with the delivery. But that was not your fault, so I will not let it influence my review (but tell Quantium to add locations to their tracking, for one. I am not psychic XD).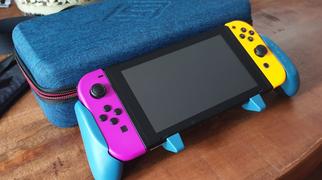 Guy C.

United States
06/19/2020
A Must Own Switch Accessory
Let me start off by saying I was back and forth on this product as the grip looked amazing, but i already had a beautiful case from another company that isn't quite large enough to accomodate it. I'm very glad i decided to pull the trigger on this limited edition case/grip. The positives: Any gamer with above average or even average hands will absolutely want and love this grip. Its slides easily on to the console without touching the backs of the joy con or console itself and therefore will not scratch your console. It also does not cover the entire back plate, and therefore will not restrict the fan in the Switch from functioning properly. In other words this grip will never cause your switch to run hot or overheat. The grip feels almost like an Xbox controller in your hands and greatly reduces hand cramping and also makes for a much more comfortable experience overall. The buttons are easy to reach and the Switch just feels overall like a better device with this grip. Especially useful for extended play sessions. It's sleek, with a nice design and the color of the limited edition frost blue is absolutely gorgeous to the point where I'm probably going to paint one of my sets of joy con to match! The plastic is hard and sturdy and feels like it should hold up for years to come with little or no issues. The negatives: Lack of color options is one of the few things you may think of as a negative. The original grip is kind of dull in my opinion though easier to match with joycon combinations. The limited edition is a beautiful color but as far as i can tell these are the only two options. Another negative is shipping. I get that it ships from China and Covid was in full effect when i bought it, but the shipping cost me nearly as much as the product itself and it took WEEKS to get here. My advice is to just pay standard shipping and wait. (Still quite expensive) The case is very strudy and comes with a shoulder strap which is nice, but its a little short and cheap. Not a deal breaker by amy means but worth noting. There is a compartment for game cards and the Switch sits very nicely inside the case which has soft microfiber to protect your screen. However, the case is too small to accomodate a true Switch AC adapter. It does come with a nice little usb adapter which is of good quality and according to their video is a power saving cord of some sort that will not brick your Switch. Thats a big positive, however the cord is very short, and i prefer to take my AC adapter when I use it so i can easily plug it in while i continue to play which I can not do with this case. Again not a deal breaker, but worth mentioning. Other than those minor set backs it's a beautiful grip in every sense. Overall the pros greatly outweigh the cons and I would highly recommend this product to any switch owner. It works as well on the go as it does sitting on your couch and it is worth the cost, and is in my opinion an essential Nintendo Switch accessory.
Deric S.

United States
06/19/2020
Great product
I'm very impressed and have been enjoying using the grip almost everyday, the case is high quality and lets me hold all the things I need. Very good product and I will recommend to my friends
Sean S.

United States
06/18/2020
Amazing Bundle Love The Frost Blue Color and Pro Case And Grip...Long Wait on Arrival of package from Hong Kong and box was a little damaged but everything else in perfect condition thank you for your best ever color bundle Satisfye