ZenGrip Pro
ZenGrip Pro
ZenGrip Pro
Hurry!
only

7184

left in stock!
The Ultimate Gaming Grip for the Nintendo® Switch
Includes: ZenGrip Pro + Two Thumb Pads
The following shipping options are available at checkout:
Domestic + International Shipping Available
2-Day USA Shipping Available
2-Day Shipping
Available 2-day shipping for all US addresses.
Buy American
Owned, operated and designed in California.
Gamers Love Us
More than 20K 5-Star reviews. Really.
REVIEWS
Customer Reviews
Filter Reviews:
Switch
grip
hands
mode
Satisfye
case
quality
anyone
Nintendo
experience
Charlie P.

United States
01/23/2021
ZenGrip Pro feels great
My hands were aching while playing my switch handheld for too long, but this feels great to hold for hours on end.
Marlon J.

Netherlands
01/22/2021
Excellent
Also have the old model and love both. Changes of the rubber works great. This makes gaming with the Switch so much more comfortable. Don't wanna do it without this awesome grip. Can recommend it to everyone!
DMITRIY P.

Russia
Michael H.

Canada
01/22/2021
No more hand cramps.
I sometimes wonder if the grip will damage or mark my Switch in some way, but it hasn't yet. Feels great to use, almost like a wide PS4 controller.
felecite a.

United States
01/22/2021
Great grip
I love using this grip and anytime I'm not using my switch docked, I have the grip on. It adds some weight to the console, but it's nothing serious. It is extremely comfortable to hold, it took some getting used to at first but once I settled in, I was IN. The "float" aspect is something I love because it doesn't scuff your console or joycons, but the little red nubs keep it firmly in place. Overall awesome grip, I'll be getting one for my switch lite soon.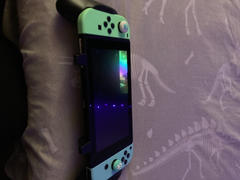 Adriel C.

United States
01/22/2021
Quick and an awesome product
I am from Costa Rica, they don't have international shipping i had to send it to a currier in the US and they sent it to me. The delivery process to the currier was quick it came before that i was expecting. The quality of the product is amazing for the price that i paid, there is not a better grip than this for this price, now i can play with my Nintendo in bed for hours .
WG
William G.

United States
01/21/2021
Best Accessory
Easily one of the best accessories for the Switch if you plan on playing handheld for any meaningful amount of time. I recommend one to any Switch owner.
Shantel G.

United States
01/20/2021
Amazing !
Love this thing!! I've had it for about two months now, and I haven't taken it off, I'll never play my switch without it! It's amazing. Took me a few days to get use to since I have small hands, but once I got use to it, it's been a game changer. My hands no longer cramp up. Overall it's my best switch accessory purchase!!
Dominic S.

Ireland
01/19/2021
Really good!!!
Really happy with the purchase and would totally recommend it's really comfortable and has a really good grip over all iam happy with the purchase .
Elizabeth P.

Australia
01/19/2021
Great for long handheld use
I bought this as a present for my partner and he loves it as his hands are a little broader, I loved using it too so much that I'll be looking to get one for my Swtich in the near future! Good quality, nice offset design and more comfortable than I expected.
Amanda F.

United States
01/18/2021
Huge difference
The way these grip and take all the pressure off your wrists and thumbs is amazing! So much better than anything out there.
Michael B.

United States
01/17/2021
Amazing
I absolutely love it. I cannot play my switch without it and I highly recommended it to all my friends
Kelsey N.

United States
01/14/2021
Cant play handheld without it!!!
No matter how I hold my switch, my left hand always falls asleep while playing. Since I got the satisfy grip, my hand doesn't fall asleep (or at least takes hours for it to).
Andrew V.

United States
01/13/2021
Loooove it
I hated playing in handheld mode until I got this product. It's a life changer.
James H.

United States
01/13/2021
It's Awesome!
This was for my son who absolutely loves it. It really does enhance the Switch experience in handheld mode.