The Ultimate Gaming Bundle for the Nintendo Switch®
Includes: ZenGrip™ Pro, ZenGrip™ Pro Elite Case, two (2) thumb pads, controller rail, USB-A to USB-C charging cable
Description & Features
What's Included
Our next generation Elite Bundle features the new ZenGrip™ Pro and everything you need for on-the-go gaming. With added room for a full-sized power bank and USB-A to USB-C cable included, your Switch can charge wherever your busy life takes you.

The Elite Bundle Includes:

ZenGrip™ Pro - The asymmetric and ergonomic design of our ZenGrip™ Pro fits a broad range of hand sizes and comfortably adjusts for extended gameplay.

New Third Generation Elite Case - The premier case for your Switch - you sacrifice nothing and carry everything. Designed to hold the Switch + ZenGrip™ Pro in maximum style, with room for 19 games and added room for a full-sized power bank.

New Controller Rail - Holds your controllers together for an organized pouch.

USB-A to USB-C Cable - Low profile cable with 56k Ohm Resistor safely charges your Switch.

Pair of Thumb Pads - Slightly raised surface with added texture for superior control.

The ZenGrip™ Pro Elite Bundle Comes with a Three-Year Limited Manufacturer's Warranty.





































Items included:

ZenGrip™ Pro

ZenGrip™ Pro Elite Case

USB-A to USB-C charging cable

Controller rail

Thumb pads (2) for Switch
Customer Reviews
Filter Reviews:
grip
Switch
case
hands
quality
bundle
mode
games
Satisfye
everything
Joel C.
United States
12/04/2020
This Grip is EPIC
I love this thing, before I used to always play handheld but after about two hours my hands would hurt. But when I got the grip I never get uncomfortable anymore. Because of this the last time I played in docked mode was months ago, right after I bought the grip. I can't use my switch without the it now. now for the rest of the bundle. The case amazing, it has so much space and doesn't feel cheap so I don't have to worry about my switch getting damaged if I drop it. The charging cable is good and I like that it's a 90 degree connection so it's life span is extended. The rails are useful I guess for keeping my extra pair of joycons together but sometimes they turn on and start controlling my switch when I don't want it to, that's not an easy problem to fix but what you maybe try to do is to make little windows on the rails so I can see if they are on or not instead of having to take out the joycons. The last thing is the joystick caps, they are good for extending the stick height but they are too big on the sides that they drastically prevent the joysticks range of motion. I wouldn't know how to fix that but maybe someone can figure it out. Overall a great bundle at a decent price. I like it and I think it deserves 5 stars.
Christopher R.
United States
12/01/2020
Love Everything About This
I am really impressed by the ZenGrip. It fits my rather large hands perfectly and makes longer gaming sessions much more comfortable. Not only that, but I love the way that it works as a stand to set the console upright when you're not using it. It's also easy enough to remove when needed to put into the dock. I picked up my Switch after it was in the dock the other day and forgot to put my ZenGrip back on for a moment and was amazed at how the Switch felt without the grip, it felt so thin and fragile and I didn't have anywhere to put my hands! I also love all the little accessories that came with the bundle. For the price its a great deal. The case is great and durable with lots of room for everything you need with your Switch, the one thing I was disappointed was that it did not have a shoulder strap included so I had to get one from elsewhere. It's a little bulky to put inside of another bag, say, but works fine with a shoulder strap as it's own bag, and doesn't look too odd. I especially like how my power bank can sit in the bottom, and the included cord works perfectly to charge my Switch while on the go. Overall I have really enjoyed this product, it has really changed how I use my Switch for the better and I am really happy I decided to get it for myself.
Jordan B.
United States
12/01/2020
Worth Every Penny
Great design, great build quality. I have had this grip attached to my Switch 24/7 since it arrived. Do yourself a favor and get one this holiday season.
Henrik S.
Norway
12/01/2020
Not normally a grip user
But due to the wear that happens on the joycons, having a grip that keeps them in propper place as long as they click into place I can say that I am a happy customer here :) The carrying case is good as well, good space usage if you are going to only carry around the switch itself (as in not having the hub with you).
Rodney C.
Canada
11/29/2020
I like the light weight design.
I've been scouring online stores and malls for a good case that also had a bag. I literally spent 100+ cad trying several things before I saw thequartering promoting this in his channel. It's been great so far to have the case that's protecting my switch but easy to remove and use the dock. I got the protector and the bag with strap. There is one problem, not really a deal breaker but some thing to consider in future releases. I don't know why but the charger doesn't fit. There's an uncomfortable bulge that I think if the bag is pressed, it will damage my switch. So, I haven't been able to put the charger in the bag.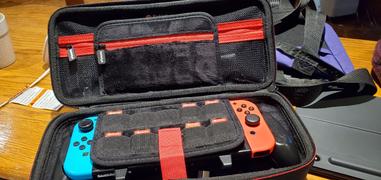 DD
Daniel D.
United States
11/21/2020
First grip I've bought for my switch
I had been holding off on buying a grip for my switch because I wasn't sure what the best one was, especially for me and my big hands. So far, I've been very happy with the grip and case, so much better then the old case I had that was made too big for the switch and would just slide around inside.
Manuel A.
United States
11/21/2020
Pro Elite Bundle
my son loves it good product sturdy
Michael S.
United States
11/19/2020
Definitely buy it, definitely get the bundle
I use this thing at work every day because I'm a security guard/gate person and we honestly don't do anything right now during covid. This grip makes it easily comfortable for me to play for multiple hours without thumb jam or any other kinds of pain and regret. The elite carrying case is really badass looking, tough, and spacious. I bought a tiny dock, and this case keeps that dock, one of those controllers you pop the joycons into, an hdmi cord, and a charger, as well as my switch and over 20 games. I literally can bring this one case over to someone's house that doesn't even have a switch, and plug the thing into their tv to play jackbox now. TL:DR The grip is comfortable, the case is the best case imaginable.
Andrew G.
Australia
11/16/2020
How good is this Product
The Zengrip Is an outstanding product, Quality and make are brilliant, Makes using the switch 100% better a lot more comfortable to hold and the design of it makes it very flexible as either a stand or to hold.
ZV
Zilvinas V.
United Kingdom
11/15/2020
Best Grip for Switch
Absolutely amazing grip, i'm only playing switch in handheld since I got this. Recommended to every handheld player 10/10
Ricardo d.
Portugal
11/15/2020
Good product
Good grip overall with a very solid construction and nice feel. Only thing I found to be a bit annoying is that this grip doesn't fit as well as other ones on the stand I use regularly due to it's thicker back. A bit of adjustment was enough to somewhat deal with the problem though. The case is amazing and no problems at all with it, from my side. High quality, awesome zipper and enough room for what I need using this grip. Very satisdye'ed!
RO
Rebecca O.
United States
11/13/2020
Extremely happy
This has completely changed my experience while I play my switch. I have a bad hand and struggle to hold my switch on its own with out my hand cramping. I'm extremely happy made this purchase and have no complaints or regrets.
michael p.
United States
11/12/2020
All in one solution
The case is fantastic with room for everything you could want to take with you. As for the grip, I have tried 3 top rated grips before this one and it is the most comforable one by far. I dont get hand cramps anymore or feel any discomfort since I started using this one
Jordan S.
United States
11/12/2020
Must buy
The case is great but what really sets it apart is the grip. It is the most comfortable grip on the market. The only con is the thumb grips that go on the analog sticks. They tend to limit how far you can push the stick and you have to push a little harder to run in some games.
Fredrik G.
Finland
11/10/2020
A must have
The materials are top notch, and the quality is great. For a person with larger hands, it is absolutely essential for longer gaming sessions.