ZenGrip Go Slim Bundle
ZenGrip Go Slim Bundle
ZenGrip Go Slim Bundle
Hurry!
only

2890

left in stock!
2-Day Shipping
Available 2-day shipping for all US addresses.
Buy American
Owned, operated and designed in California.
Gamers Love Us
More than 20K 5-Star reviews. Really.
REVIEWS
Customer Reviews
Filter Reviews:
grip
case
Switch Lite
hands
quality
Satisfye
Lite
bundle
Nintendo
materials
Chris C.

United States
06/07/2021
Great case, great grip, great buy!
Highly recommend!
Darcy H.

Canada
06/04/2021
Best Switch Lite grip and case
Great quality product/materials. The ergonomics of the grip is fantastic!
Nicholas M.

United States
05/29/2021
Second to none
Satisfye is top tier, nobody comes close to making as good grips and cases for mobile gaming. Literally every switch in my family and group of friends uses satisfy. If you aren't using a satisfy grip and case, you've made in some bad life choices.
Nicola C.

Italy
05/25/2021
As Expected
The item arrived early, once I tried the grip, it never left the console! Comfortable and lightweight, doesn't scratch the Switch at all. The case itself feels premium and sturdy, the zippers are something else! Going back I would've liked some more space beneath to put the official Nintendo charger :/ nonetheless I absolutely recommend the brand and the product!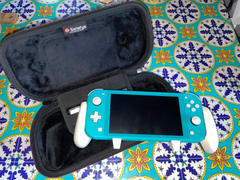 Matthew L.

United States
05/21/2021
Perfect Accessory for Your Switch Lite
Much more comfortable and no reason to take it off, unlike the one for the standard Switch. I think this makes it the supperior product in that sense. Pretty much a must have. Thankfull it includes the carrying case. The included thumbstick nubs are not for me. They feel comfortable but I feel as though they limit the full range of the sticks (rubber/silicone hits the switch before it's fully pushed). Probably not a big deal for more casual play and perhaps overtime it would "adjust" itself.
Oscar G.

United States
05/16/2021
Feels Great to Use!
The quality of the product is great, the design of the grip prioritizes comfort and makes it much easier playing games that require a lot of input. The material feels like it was chosen because how great it feels in the hands.
Marc S.

Germany
04/25/2021
Best addition for Switch lite
I am loving it!
Katherine M.

United States
04/21/2021
Great products
my boyfriend purchased me the standard switch case last year with grip, i recently purchased a new case, a slimmer version, love it, i am so satisfyed with my purchase! thank you so much
Kris R.

Australia
04/19/2021
Zengrip Lite
It's been great, I have a switch lite and it feels so comfortable to play on the go. Highly recommended
edson c.

United States
03/26/2021
Great Bundle
I really liked the quality of materials and fast shipping. I don't take my switch out from there at all.
A
Andrii

United States
03/25/2021
This is a game changer!
Stumbled upon these accessories accidentally on YouTube. Got two of these bundles for me and a friend and I gotta say that everything about this just screams quality at you. From the quick delivery to materials and overall ergonomics of pads, grip and the case, it all feels solid and assembled with care and thought. Definitely a product by gamers at heart, pure awesomenes! You can say that I am Satisfyed =) Keep up the good work
Cas N.

Canada
03/18/2021
AMAZING!
I really love this product, has a high quality and very comfortable grip, also the materials are great. Amazing products!
Daniel B.

United States
03/01/2021
Perfect
Perfect case and the grips makes the switch so comfortable to use.
Giuseppe P.

United States
02/28/2021
Great product and services!
Super comfortable and durable material. Satisfye is where it's at
Daniel C.

United States
02/27/2021
Perfect
Awesome grip and case to take the switch lite on the go. The grip works so well and doesn't cause the discomfort I feel playing long periods of time with the switch by itself