ZenGrip Go for Switch Lite
ZenGrip Go for Switch Lite
ZenGrip Go for Switch Lite
Hurry!
only

3143

left in stock!
The Ultimate Gaming Grip for the Nintendo® Switch Lite
Includes:
ZenGrip Go, White
(2) Thumbpads, White
The following shipping options are available at checkout:
Domestic + International Shipping Available
2-Day USA Shipping Available
2-Day Shipping
Available 2-day shipping for all US addresses.
Buy American
Owned, operated and designed in California.
Gamers Love Us
More than 20K 5-Star reviews. Really.
REVIEWS
Customer Reviews
Filter Reviews:
Switch Lite
grip
hands
Satisfye
games
quality
case
controller
comfort
wrists
Aubrie R.

United States
09/22/2021
Love it
Very comfortable especially for larger hands. Your thumbs naturally rest on the sticks which contributes to a more comfortable experience
Cyndi L.

United States
09/19/2021
Love it!
The Satisfye Grip makes playing my Switch so so much more enjoyable! I'll never play without one
Mark A.

Australia
09/13/2021
Review of switch lite grip
The grip is incredible. Being able to have the controls feel open and free without the cramping is great. It's also helped stop my arms from going numb when playing due to no more cramping.
Brittney P.

Canada
09/10/2021
Loved it
It's real good, you should get one.
racquel s.

United States
09/10/2021
So Good!
Seriously yall, this is a game changer for me! i like to play and watch videos while laying in the bed. before the ZenGrip it was rather uncomfortable holding up the system while laying down. the ZenGrip has changed all that and now i can hold up my system without any discomfort!
Filip T.

Sweden
09/02/2021
Experience
It is a massive improvement, especially because I have large hands and with the grip it feels more natural using the switch
Marisa W.

United States
09/02/2021
Excellent Grip for the Switch Lite
I wish I would've ordered this grip first. It feels like I am holding a controller while playing games. An excellent grip with the perfect combo of comfort and size. My hands don't cramp or become fatigued. Definitely leaps and bounds above a certain other brand's "adjustable" grip I had bought before. I will definitely recommend the Satisfye ZenGrip Go (and other Satisfye products) to others! Thank you!!!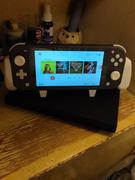 Oscar E.

Colombia
08/23/2021
Makes my mitts mellow
I knew that when I was buying the switch lite I would have to get something for my huge hands. I tried a soft rubber shell that made my wrists hurt even more, I tried two popsockets as adjustable back grips which worked pretty well for a while. Then I found THIS and holee does it change everything. I have not had a moment of cramping since I bought it and it makes wielding the Switch Lite feel even lighter because of the great grip you get out of it. I only wish they had other colors than white, I just have to be extra careful with smudging it but that would still be the case if they had a pink to match my coral switch. The joystick grip covers included were welcome but I feel like they are particularly prone to getting very slippery which I've never had issues with, (I don't get sweaty palms). I'm keeping them on if only to keep the originals intact. Kudos to the support team as well for being prompt with their response times and help!
Theodore S.

United States
08/12/2021
A must have for handheld
I started using this thanks to Beatemups and have not been able to go back to the regular switch lite
Daniel G.

United States
08/09/2021
Great product
Love it! Its a must have with the switch lite.
David M.

United States
08/07/2021
A must-have accessory!
Total game changer as far as comfort holding the switch lite for extended periods
Jason T.

United States
08/04/2021
The Best!
This my favorite form factor for the current models of the switch.
Linus H.

United States
06/06/2021
Great
This thing makes the switch much better!
Joshua K.

United States
06/05/2021
Comfortable...no more hand cramps
As a slightly-more-than-casual gamer, I appreciate not getting hand cramps on longer (over 45 min) gaming session. The handles are comfortable, work for my large hands (and the stand is great for cut-scenes or watching videos). Thanks!
Romeo C.

United States
05/28/2021
good quality
it help with your hand cramping