ZenGrip Go for Switch Lite
ZenGrip Go for Switch Lite
ZenGrip Go for Switch Lite
Hurry!
only

2124

left in stock!
The Ultimate Gaming Grip for the Nintendo® Switch Lite
Includes:
ZenGrip Go, White
(2) Thumbpads, White
The following shipping options are available at checkout:
Domestic + International Shipping Available
2-Day USA Shipping Available
2-Day Shipping
Available 2-day shipping for all US addresses.
Buy American
Owned, operated and designed in California.
Gamers Love Us
More than 20K 5-Star reviews. Really.
REVIEWS
Customer Reviews
Filter Reviews:
Switch Lite
grip
hands
quality
Satisfye
games
controller
case
comfort
wrists
10/13/2022
no more hand hurties
absolutely wonderful
jorge g.

Canada
10/12/2022
Excellent
Very satisfying. Shipping fees and wait time where the only bummer.
Skye C.

Canada
10/07/2022
Very comfortable!
Found out about this grip through BeatEmUps on YouTube, and it's even better than I expected it to be! Been playing Splatoon 3 with it a lot and I went from getting hand cramps daily to playing comfortably for hours with no pain. Overall feels a lot more comfortable to use than the switch on its own, and I'd recommend this product to anyone who feels like their arms hurt while playing the switch as is!
Carter B.

United States
09/24/2022
This is one of the best thangs out there
Matthew S.

United States
09/17/2022
Definitely a MUST HAVE
My product came perfectly with free thumbstick covers to make my system even better. This is a must have for all Nintendo switch owners I have three switches and have one for each. I don't know how I ever played without one LOL
Josh G.

United States
09/10/2022
I love it
Makes the switch lite more comfortable.
Timothy M.

United States
08/27/2022
Best grip
Amazing grip 10 across the board recommend any who has any kind of switch to grab one
jeson t.

United States
08/22/2022
Satisfyed
Comfortability is where it's at with this
Jaden Y.

United States
08/22/2022
Works great
My brother uses this on a daily basis and its comfortable for him. I also have one for the regular Switch and it very good.
roan w.

United States
08/09/2022
Bliss on your hands
Literally best switch accessory I've ever bought. Makes it so much easier to hold and your hands don't cramp and it is the best!!
Brian O.

United States
08/03/2022
I've wanted one from the first reviews on youtube I saw!
After putting the first one on and playing for 10 mins, I made sure to purchase one for all 5 switches in the house! The kids love them on their lites too! I got them while on sale but would have purchased at full price.
Amanda H.

United States
07/29/2022
Perfect!
Best investment I've made for my lite. I've been playing MH Rise with my bf and kept getting the worst hand and wrist pain, which led to me passing up on hunting sometimes. Decided to give this grip a go and I've had no pain or issues since! It makes hunts and long game play sessions fun again! No issues with cramps or getting sweaty palms or such either. I have small hands and was a bit worried about not reaching the buttons well since a lot of reviews said this was great for big hands, but I'm pleased to let you know that it had no negative impact on button reachability (in fact, aince my grip has improved, it feels like I can press things easier). Very secure grip on the lite without any scratches, too. I even shook it around and it stayed in the grip. I highly recommend getting this if you've had similar issues.
Shealia L.

United States
07/09/2022
These Switch Grips Save Me From Carpel Tunnel!!!
Thank goodness for these amazing grips!! They make playing the Switch actually ergonomic which allows me to play for a lot longer than I could before! When I tried to play my Switch before, I would have to put it down after an hour because it actually started to hurt. I was honestly concerned about developing carpel tunnel! But now I can play hours of games thanks to these awesome grips! I originally gave one as a gift, but since trying it out and falling in love I've bought 3 total for all our Switches and will probably give them as gifts this Christmas because they are just that good!! Shoutout to BeatEmUps on YouTube who let his viewers know about this revolutionary product! Thank you Satisfye!!! :D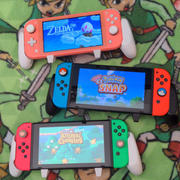 Shannon B.

United States
07/03/2022
Great product!
This is one of the best accessories for the switch. A must buy for everyone. This is my second purchase. This one is for my daughter's switch lite and she loves it as well.
Sydney A.

United States
06/29/2022
Game Changer
Since using the ZenGrip Pro all of the aches and pains I felt when playing have disappeared. I can enjoy my switch so much more than before, and honestly I wish nintendo would partner with them for their new console design.