ZenGrip Go Slim Bundle
ZenGrip Go Slim Bundle
ZenGrip Go Slim Bundle
Hurry!
only

3132

left in stock!
2-Day Shipping
Available 2-day shipping for all US addresses.
Buy American
Owned, operated and designed in California.
Gamers Love Us
More than 20K 5-Star reviews. Really.
REVIEWS
Customer Reviews
Filter Reviews:
grip
case
Switch Lite
hands
Satisfye
quality
Lite
bundle
Nintendo
comfort
Tyler H.
United States
01/15/2021
Excellent Accessory
I absolutely love your grips, they make the switch so much more comfortable to play on the go and they are easy to get on and off, plus a really nice case to carry it in, a must have accessory. I've bought 2 now, one for my regular switch and I got my mom one for her switch lite and she loves it as well.
David H.
United States
01/10/2021
Great grip
I bought this for my sister's switch lite, and she loves it. Best switch grip on the market.
Steve T.
United States
01/09/2021
A Must Have
This grip and case is essential if you own a Switch or Switch Lite. It makes handheld mode feel like you're holding an XBOX controller.
Rafael E.
United States
01/08/2021
Zen Grip
Very good. Very comfortable and tactile.
XJ D.
United States
01/07/2021
F*** yay
exactly what i paid for, happier if i got the full deal
Joseph G.
United States
01/04/2021
No brainer for my switch
I have an original switch and a lite. I first had satisfy for my original switch and knew my lite had to have a similar set up. You gotta get this handheld gear.
Alex .
United Kingdom
12/19/2020
Great product
Very very please with the zengrip go slim Bundle, it feels very comfortable in the hand and has a very nice build quality! I was skeptical at first but very happy now it has arrived. The only thing I must say is that if you are a UK buyer like me you may aswell just go all out and get the big bundle! It took about 2-3 weeks to arrive and after the wait I feel like I would have been aswell buying the big bundle considering the price being not bad in gbp and the time you have to wait.
Brandi W.
Canada
12/18/2020
Awesome
Great so much better than playing without A grip
Daniel
United States
12/02/2020
Go Slim Case bundle
I really like the Zen grip, when I play with my Nintendo switch light without the Zen grip, I only could play about 15 to 20 minutes before my wrist starts to hurt and it seems like it takes about a day before the pain will go away. When I start playing my Nintendo switch light with the Zen grip, I could play a lot longer and I did not feel any pain in my wrist. The go slim case, The one only complaint I have is the Cartridge sleeve. The cartridge sleeve is slightly too big and when you put the cartridge in all the way in, you will not be able to read what game is in that he sleeve. You have to make sure not to put your cartridge fully into the sleeve. If they ever do an improvement on the go slim case, I think they should make the game sleeve smaller and I think if they make the sleeve smaller they'll be ableto add an extra four extra games sleeve.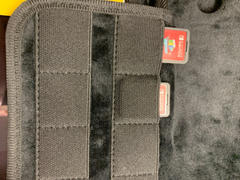 Scott &.
Australia
11/16/2020
An essential purchase
I'm an adult male. I was getting cramps in my hands from the Lite at 45min point. The ZenGrip has cured that, I'm finally playing comfortably. The case is great too. Very high quality product that I can't believe hasn't been bought and officially integrated into the 'tendo company. Yes, it's not cheap, but it's worth it - no regrets at all here. If you want your Lite to fit your hands, this is the purchase you need to make.
Lee Z.
Canada
11/13/2020
Love this
i love this grip, i seen the grip being used by youtuber BeatEmUps and figured id try it, its very comfortable for my big hands on a tiny switch and also made from good quality materials that feel good to the touch. will definitely be recommending this to whomever has a switch.
Sean S.
United States
10/23/2020
very great
Very nice to use love it ...works perfectly
Jose b.
United States
10/15/2020
Great feel & grip!
Couldn't be happier…haven't taken the grip off since purchasing.
Russell L.
United States
10/08/2020
Der worth it
At first it was a little weird playing on the zenGrip go, as it was with my zenGrip. But once I got accustomed to it, it became the only way I could play my Switch Lite. Although I wish there were more options as far as colors or themes I will continue to buy from Satisfye for as long as I possibly can. Highly recommended to anyone with a switch lite!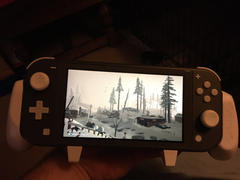 Jordan K.
United States
10/07/2020
My wife loves it
It was a 10 out of 1-10