Introducing the ZenGrip™ Pro Tropical Edition
Available in
Sky Blue
or
Palm Green
DESCRIPTION & FEATURES
WHAT'S INCLUDED
These are in limited supply, so act fast if you're serious.

Now available in tropical two-tone color combinations! The asymmetric and ergonomic design of our Tropical Edition ZenGrip™ Pro fits a broad range of hand sizes and comfortably adjusts for extended gameplay. The exclusive float technology helps improve airflow to prevent your Switch from overheating, minimizes wear and tear and keeps it locked in place for the best protection. Choose "Sky Blue" or "Palm Green" color combinations.

The Tropical Edition ZenGrip™ Pro is available ONLY as a stand-alone grip.

The Tropical Edition ZenGrip™ Pro comes with a Three-Year Limited Manufacturer's Warranty.

Items included:


Tropical Edition ZenGrip™ Pro

Tropical Edition Thumb Pads in Blue (2) & Green (2)
Customer Reviews
Write a Review
Ask a Question
Filter Reviews:
mode
Switch
case
hands
Satisfye
grips
console
color
plastic
wife
07/08/2020
Loc
United States
Nice upgrade from V1!
I really like the changes to the satisfye grip for the switch! My original V1 grip scratched the back of my joycons, but that's okay. This one feels a lot nicer and the added silicon definitely "floats" the console like the video says it does. No more scratches. I love the fun tropical colors. I wanted to add a pic in case anyone is curious what it looks like with red/blue joycons. Fun fact: I don't have to take it off for my basstop switch dock replacement case. It just tilts the dock forward a bit when I play on the tv.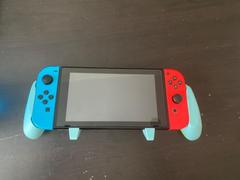 07/23/2020
Claudette B.
United States
Only had it for a day and now I'm thinking why I never had it before!
Just received it yesterday and I must say, it looks gorgeous! I got the green one after seeing Beatemups with Kim visiting 5-star islands. The green piqued my interest. The blue is also as beautiful; it was a hard choice to make! Now for the grip, it is a little heavy but I digress. I have a disability so I'm sure it's light as a feather for most. Anyways, it feels amazing! Definitely quality feeling. The back is a rubber grip so it's easier to keep your hands in place. I used it propped onto a pillow to help with the wait and I just knew that the dock might not be used as much because of this! I considered this because I had the ACNH Switch and so I played longer and much more comfortable! It helps my disability to play more comfortably. How I wish there was a matching elite bundle or slim bundle cases but standalone should be available too for those who ordered these early. A cream looking one would be great to match the back of the ACNH joy-cons. I implore you to buy it! It will make handheld gaming so comfortable that playing more hours will be a blessing in disguise. More time playing for sure!
07/20/2020
Ashlyn
United States
07/16/2020
Nicole
Australia
Love it
Great grip. Super tight but the rubber padding still allows the switch to slide in and out easily. The handles make gameplay so much more comfortable. Best of all, no scratches! I noticed some light marking from the rubber but it came off really easily. I bought the sky blue version and it looks so pretty with my animal crossing joy-cons. Highly recommended!
08/26/2020
Sylvia S.
United States
Amazing
I have a hard time holding a lot of weight on my hands and was worried that this would add a lot more weight to the switch. Was I wrong! It hardly weighs anything. It's also a beautiful color of green. I also go camping a ton and love that I can play this for a long time without having any strains while on hand held mode and also love how it is it's own stand when placing on table and using it with my pro switch. Highly recommend!!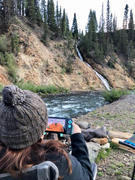 07/29/2020
Max
United States
Great grips for the switch
I received them today in a great box and it came in a perfect condition. It also came with 2 sets of thumbstick covers, one in green and one in blue much like the colors of the grip. The grip really helps you navigate the controllers buttons especially with its asymmetric style that other grips do not have.
07/13/2020
Madi
United States
Very well made
Very well made and a little heavy. Good grip and slides on to the switch easily! Very pretty as well. Color goes great with the skin on my switch!
07/10/2020
Josh
United States
Perfect
The Palm Green grip looks and feels amazing. I've been debating buying a grip for a while now because I wasn't sure it would be worth it, but it absolutely is. I can't recommend this product enough!
07/09/2020
PapaSmurf619
United States
This thing is FIRE!
I love this thing! The color really pops off!
09/18/2020
Justin S.
United States
Great for handheld users
My hands don't hurt after 10 minutes of play anymore. The grip really helps. The only con is that it has to be removed to dock the console. However, I still wholeheartedly recommend the grip.
09/18/2020
Michelle M.
United States
I love the color
I love the color! The grip has been helpful in managing my wrist issues while playing for long periods of time.
09/15/2020
Jerry D.
United States
Tropical Zen Grip
I love this grip!! 1000/10
09/15/2020
Davis N.
United States
Love it!
This grip elevated my hand held experience
09/13/2020
Matthew W.
United States
Makes the switch not feel like holding a grahmcracker
Makes the switch not feel like holding a grahmcracker
09/13/2020
Holly D.
United States
Great case!
This case makes it super easy to slip your switch into and take out. There's no hard plastic that might crack! Also I love that it also makes a nice stand!