ZenGrip Pro Elite Bundle
ZenGrip Pro Elite Bundle
ZenGrip Pro Elite Bundle
Hurry!
only

-32

left in stock!
Backordered — Ships by April 20th
Compatible with Switch & Switch OLED
Description
The Ultimate Gaming Bundle for the Nintendo® Switch
Includes: ZenGrip™ Pro + ZenCase™ Pro Elite + 3 ft USB C-C Cable + Controller Rail + RyzePad™ Wave (Mid+High)
The following shipping options are available at checkout:
Domestic + International Shipping Available
2-Day USA Shipping Available
2-Day Shipping
Available 2-day shipping for all US addresses.
Buy American
Owned, operated and designed in California.
Gamers Love Us
More than 20K 5-Star reviews. Really.
REVIEWS
Customer Reviews
Filter Reviews:
grip
Switch
case
hands
quality
everything
mode
bundle
games
Satisfye
John B.

United States
03/16/2023
Really like it but the it's slightly misleading
I like it, it works very well. The one problem I had was the strap is pictured with the listing as if it's part of the bundle and since it's the $80 elite bundle I just assumed everything pictured came with it. But that's a separate purchase that wasn't available at the time. So I would either take it out of the pictures in the listing or clearly mark that it's sold separately.
Edouardos K.

Greece
03/09/2023
Zen Grip Pro Elite Bundle
I received the product and I am extremely happy with the fit and finish as well as with the upgrade it gives to handheld playing comfort. Please open an EU store so we can order more stuff!! Very nice product very happy I got it!
Kyle H.

United States
03/03/2023
Good Product but…
Missing the shoulder strap. Kind of misleading on the site and it even shows it as part of the bundle in the thumbnail above. Disappointing.
William S.

United States
02/27/2023
Love this product
Huge fan. Have already recommended it to several people
Ronee C.

United States
02/22/2023
Great customer service. grips not for me
the grips for the OLED were just not a fit in my hands. I am a female size M usually, and these I feel are made for men and larger hands.
Caitlin E.

Ireland
02/21/2023
Nintendo case and grips
Very good.makes it much easier to hold switch
Jose R.

United States
02/15/2023
Great product
It's been great using the grip and everything it comes with but the only problem I had with it was the fact that the grip somehow scratched the back part of my oled console more like fading on the parts where the red grips are at. Other than that I have no complaints.
Josh H.

United States
02/14/2023
Game Changer
This is my second purchase from Satisfye. Upgraded to the Oled switch and purchased another grip for the new system. Definitely a must have accessory for hand held gaming. A game changer. Shout out to YouTuber Beatemups for the recommendation.
Nancy S.

United States
02/10/2023
Case is nice but stitching is poor
I liked it when I first got it. I keep my switch in my case however when I decided to use the straps feature to the case, it immediately came apart. I am devastated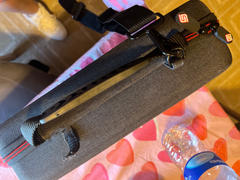 How long have you had this Nancy? These cases are covered under warranty and we will replace that
Thomas B.

United Kingdom
02/07/2023
Good but expensive
The grip is definitely a good product, and the case is great too, but the pricing is way too much. The grip also adds a lot of weight to the switch, so you should be prepared for that, too.
Jessie P.

United States
01/30/2023
Great grip!!
This the best grip out. The quality is very good. The only down side is its not dockable on the official nintendo switch dock. Again the quality is very good. Rubberized handles, and the ergonomics are excellent. I love this grip! Satisfye is exactly what this company does. Thank you for a great product!!
Francis W.

United States
01/30/2023
Love it
Great quality solid design.
Ashley M.

United States
01/29/2023
Great products but bundle needs work
All of rhe products that we received work great and we live them. The only problem is that you don't get the shoulder strap that is advertised for the case and you don't get to choose which usb cord you get. Your only option is the USB c to USB c. We have a powerbank already and would have liked a USB c to USB a cord
Victor A.

United States
01/27/2023
It Changed My Life!!!
I was in a low place before this product. From hand cramps to my wife divorcing me and taking the kids. I was rock bottom. I thought to myself this is it I'm gonna do it, but then I saw this product come up on my instagram feed. IT CHANGED MY LIFE. SCREW THE KIDS I HAD NO MORE HAND CRAMPS AND MY WIFE CAME BACK!.
Justin T.

United States
01/25/2023
Great product
Love the grip and case. Great way to travel with my oled