(Domestic + International Shipping Available)
The Ultimate Gaming Grip for the Nintendo Switch Lite

®
Please Note: We do not sell our grip cases standalone for this product. If you think you may want a case, we recommend purchasing one of our bundles. 
Includes: ZenGrip™ Go + Two White Thumb Pads
DESCRIPTION & FEATURES
WHAT'S INCLUDED
ZenGrip™ Go

The ZenGrip™ Go features an asymmetric and ergonomic design for comfortable gameplay. Exclusive float technology minimizes wear and tear, and keeps your Switch Lite locked in place for extra protection. Six degrees of airflow allows air circulation and prevents your Switch Lite from overheating. Designed to fit small to extra large hands.

The ZenGrip™ Go Comes with a Three-Year Limited Manufacturer's Warranty.





Items included:

ZenGrip™ Go
Thumb Pads (2)
Customer Reviews
Write a Review
Ask a Question
Filter Reviews:
Switch
case
games
controller
hands
Satisfye
Nintendo
quality
comfort
grips
11/04/2019
Jay
United States
Absolutely worth it!
Wow...looks and feels amazing...overly impressed w/ how intuitive it feels. The SwitchGrip combined w/ the Switch Lite feels like a slightly elongated pro controller. I no longer have to "think" about using the right thumb grip...my thumb now comfortably rests right there. And it looks great even when not in use...YES I'm satisfyed (womp, womp) :)
11/08/2019
Darren J.
United States
Would recommend for any with large hands
Now that I had my grip for a day and have had long extended play periods I can confidently recommend this grip for any with large hands. The longest I played in one play period was five hours. Usually after playing for such a long period of time I start to experience cramping in my both my hands that cause me to have to put my Switch Lite down and take a moment of rest but now with the Satisfye grip attached, it's like holding a pro controller that fits comfortably in my hands and I can confidently say this grip is a five star all day.
11/06/2019
Cal O.
United States
Wonderful Grip!
This is a must-have grip!
10/26/2019
Robert L.
United States
Best gaming grip
These grips are the most comfortable and well made out of any others. I refuse to play handheld without it.
01/19/2020
Laura P.
United Kingdom
Very good product but...
The product came quite quickly and is very good quality my switch lite does feel secure and it is very comfortable to hold with the right amount of tilt and soft rubberised handles. My only issue is that I live in the uk. I had to pay quite a lot in shipping and then found out it was not coming from the states but Hong Kong. Unfortunately this meant it didn't pass through customers without an extra £12.70 being added on. Wonderful product but beware if you are an international customer
11/02/2019
Sean C.
United States
Great for people with Arthritis, like me.
It's a perfect fit for my hands, it makes gameplay easier on my fingers. Thank You Satisfye.
11/07/2019
Jeremy S.
United States
Great for my big hands, but the thumb grips don't work...
Great grip for the Switch Lite, love the color and the feel while I play. Can play even longer now and soon I'll be playing long hours of Pokemon next weekend! Just one little problem, the thumb grips don't fit right. This happen when I got the regular switch grip, when you try to go forward in a game the stick doesn't go all the way down which doesn't let you run, like in Dead By Daylight. I hope you guys find a good thumb grip cause I would love that, still love what you do and thanks a lot!
12/05/2019
Frederick v.
Canada
Quality product, but cramps in hand palms
The material and quality is good. I feel liked Satisfye missed out on making it more ergonomic. The corners of the grip stick out and dig into my palms (since I have big hands) and this creates cramps. The sole reason I bought the grip for my switch lite was to prevent hand cramps.
10/26/2019
Johnny Y.
United States
A Little Premature
Still awaiting shipment but the pre-order process was easy and the waiting is pretty easy too.
06/20/2020
Johanna
Canada
Perfect even for women with small hands
I was a bit concerned this grip would be too big for me, because I'm a woman with small hands and these types of products tend to be designed for grown-up men's hands. But this is perfect! Before I bought this my right hand and fingers would get stiff or even painful after 1h playing, now with the grip I've played up to 5h in a row without any discomfort. Just perfect :) It also works well design-wise with my grey switch lite (the grip matches the sticks and buttons' color) and the grip's height is short enough that it's just perfect for my switch to still rest on my charging dock from the DOBE brand.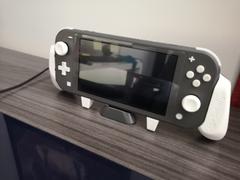 12/02/2019
Frank M.
New Zealand
Stop reading these and just buy it!
Have you got one of those cheap knock off grips or no grip at all? Order one of these today! Get one for your friend who's also gripless! It's the best grip for the Switch that money can buy, period.
05/21/2020
michelle St.John
Canada
mixed feelings
I love Zengrip i have one for my Nintendo switch but i'm sadly still waiting on my ZenGrip for my switch lite. My only complaint with this company is because i'm from Canada the shipping works for a little then all of a sudden it stop getting updates and its a guessing game for when it will come in.
03/10/2020
Mark T.
Canada
Switchgrip lite
Works great quality is great what a difference playing games now. Only thing I wish is that they sold the case separately.
01/02/2020
Patrick G.
United States
Review for the SwitchGrip Lite
This is my first purchase and my first experience with using grips as well. I wish to get a pro controller in the future and honestly this grip feels like a solid alternative for enjoying games that don't require complex inputs. It's very comfortable and I like the rubberized material at the back of the grip. Played a couple of hours and didn't feel any pain in my hands unlike when I first had the switch without the grip. I also love how it locks in place and doesn't come off even if you hold the console upside down. On top of that, it doubles as a stand which I find pretty nifty. One minor issue is that the frame on the left seems a tad bit smaller than the right but it's almost negligible that it doesn't interfere with the experience. Overall, I recommend it to anyone who plans to invest on handheld gameplay. Thank you so much Satisfye.
12/12/2019
Emilie A.
United States
Perfection!
Love the feel, the snug secured fit, more than anything I love that my hands don't hurt while playing for an extended period of time.