The Ultimate Gaming Bundle for the Nintendo Switch Lite®
Includes: ZenGrip™ Go
, Slim Grip Case + two (2) white thumb pads
DESCRIPTION & FEATURES
WHAT'S INCLUDED
Our new ZenGrip™ Go Slim Case allows you to pack your Switch Lite essentials in a sleek protective case for the best on-the-go gaming experience. Designed to hold the Switch Lite + ZenGrip™ Go in style.


Product Details:

Premium quality zipper for secured storage while you're on-the-go

Hardshell EVA exterior material for the best protection for your Switch Lite

Protective outer grooves to prevent unwanted pressure on Switch Lite joysticks

Soft, plush interior provides a scratch-free environment for your Switch Lite, ZenGrip™ Go+ accessories

One game sleeve to carry up to 8 of your favorite games

Clips attach to the back of the Case to use our Shoulder Strap with 360-degree swivel technology

The ZenGrip™ Lite Slim Bundle Comes with a Three-Year Limited Manufacturer's Warranty.

Items included:

ZenGrip™ Go

Slim Grip Case

White thumb pads (2) for Switch Lite
Customer Reviews
Filter Reviews:
grip
case
Switch Lite
hands
Satisfye
quality
Lite
bundle
Nintendo
comfort
Daniel
United States
12/02/2020
Go Slim Case bundle
I really like the Zen grip, when I play with my Nintendo switch light without the Zen grip, I only could play about 15 to 20 minutes before my wrist starts to hurt and it seems like it takes about a day before the pain will go away. When I start playing my Nintendo switch light with the Zen grip, I could play a lot longer and I did not feel any pain in my wrist. The go slim case, The one only complaint I have is the Cartridge sleeve. The cartridge sleeve is slightly too big and when you put the cartridge in all the way in, you will not be able to read what game is in that he sleeve. You have to make sure not to put your cartridge fully into the sleeve. If they ever do an improvement on the go slim case, I think they should make the game sleeve smaller and I think if they make the sleeve smaller they'll be ableto add an extra four extra games sleeve.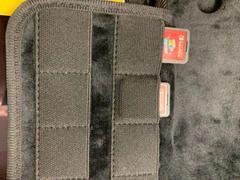 Scott &.
Australia
11/16/2020
An essential purchase
I'm an adult male. I was getting cramps in my hands from the Lite at 45min point. The ZenGrip has cured that, I'm finally playing comfortably. The case is great too. Very high quality product that I can't believe hasn't been bought and officially integrated into the 'tendo company. Yes, it's not cheap, but it's worth it - no regrets at all here. If you want your Lite to fit your hands, this is the purchase you need to make.
Lee Z.
Canada
11/13/2020
Love this
i love this grip, i seen the grip being used by youtuber BeatEmUps and figured id try it, its very comfortable for my big hands on a tiny switch and also made from good quality materials that feel good to the touch. will definitely be recommending this to whomever has a switch.
Sean S.
United States
10/23/2020
very great
Very nice to use love it ...works perfectly
Jose b.
United States
10/15/2020
Great feel & grip!
Couldn't be happier…haven't taken the grip off since purchasing.
Russell L.
United States
10/08/2020
Der worth it
At first it was a little weird playing on the zenGrip go, as it was with my zenGrip. But once I got accustomed to it, it became the only way I could play my Switch Lite. Although I wish there were more options as far as colors or themes I will continue to buy from Satisfye for as long as I possibly can. Highly recommended to anyone with a switch lite!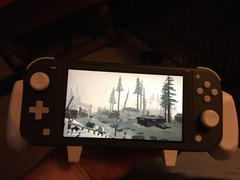 Jordan K.
United States
10/07/2020
My wife loves it
It was a 10 out of 1-10
Bryan S.
Canada
09/17/2020
Awesome product
I fully trust and support Satisfye and all of their products! Never second best!
Konstantinos P.
United Kingdom
09/06/2020
Amazing bundle must buy!!!!!!!!!!!
The grip is amazing! It changes the Switch to a proper gaming machine. The case is great quality made. My only issue is the thump grips that are not in par we the quality of the rest. Of course you can choose not to use them and they are not the reason for the purchase. Overall amazing product.
Derek W.
United States
09/03/2020
Best grip
I've used most of the iterations of these products and I can confidently say that these are the best out there. I've tried others and nothing else even comes close to the comfort and usability of these.
Cynthia H.
United States
08/30/2020
ZenGrip Go Slim Bundle
Everything that I have ever purchased from Satifye has been of outstanding quality and reasonably priced. The items arrive quickly and are carefully packaged. I am a return customer.
Meg B.
United States
08/19/2020
Happy customer
Works great, was exactly what I was hoping for :)
Charlotte G.
Netherlands
08/17/2020
Great grip!
awesome, feels great in my hands! Fast delivery
Melissa S.
United States
08/14/2020
Just What I Was Looking For
I had a grip for my Switch Lite before buying this one, but the grips were small and my hands would still cramp up after playing for long periods. This grip is so much more comfortable and ergonomic! The carrying case is absolutely perfect as well. Both quality products - would highly recommend! (Just wish the grip came in more colors for the Lite)
Jasinda S.
United States
08/13/2020
Perfect for my sore hands
I'm a drafter and have computer elbow. This grip makes it easy to use the switch for long periods. The case keeps it safe in my computer bag.