ZenGrip Go Slim Bundle
ZenGrip Go Slim Bundle
ZenGrip Go Slim Bundle
Hurry!
only

1016

left in stock!
Description
The Ultimate Gaming Bundle for the Nintendo® Switch Lite
Includes:
The following shipping options are available at checkout:
Domestic + International Shipping Available
2-Day USA Shipping Available
2-Day Shipping
Available 2-day shipping for all US addresses.
Buy American
Owned, operated and designed in California.
Gamers Love Us
More than 20K 5-Star reviews. Really.
REVIEWS
Customer Reviews
Filter Reviews:
grip
case
Switch
hands
quality
Satisfye
Lite
bundle
games
comfort
Evan W.

United States
01/17/2022
The Greatest Product Ever
a+++ item it is awesome using such a great product
Jason H.

United States
01/09/2022
very nice 5/5 stars
was nice i have big palms so holding the my switch made my hands cramped but now this grip fills up the rest of the room and the case works great to
Jason G.

United States
01/08/2022
From lite to beefy
Got 1 for each of my stepsons. Like me they had issues with the standard layout. They agree it makes it 100% better. Comfort for long sessions, quality unmatched and as they say the materials are premium.
Stanislav S.

Czech Republic
01/07/2022
Very Satisfied
It felt weird at first, but after about an hour of playing, I can say this was totally worth the money even with the shipping cost that was about the same as entire bundle. The only one thing I dont really like, are the thumpads... not both, and not because of thumpads themselves, but the left one makes it really difficult to press minus button. So, from my experience, I dont recommend to use a thumpad for your left analog stick. But thats just a small thing, and not really a fault of Satisfied. Its a design flaw of Switch itself, because its already difficult to press that minus button even without thumpads. But, the grip itself is perfect. They designed it to the smallest detail possible and they really thought about every little thing that could be bad so they would avoid any issue. It fits perfectly, and once you put it on, and get used to it, the grip just feels like it was the part of Switch from the start. The color does match buttons perfectly, and the material does feel really solid and top quality. They even thought about the small thing, like not to damage your ZR/ZL buttons when you put it down on the table. They made it a little heavier at the bottom, so Switch doesnt flip and ZL/ZR buttons wont touch your table at all. Dont get discouraged by something, this thing is worth all the money for your Switch. Its not just that the grip will help and improve you experience. It will even make it so, that you will want to play your Switch more. Its really so comfortable and pleasant to play now. And the Case? Also top material, Switch does fit inside perfectly, it doesnt move a point once you put it inside. Its almost like there is an invisible force, that just holds your Switch at the exact same spot everytime you put it in. And there is also that really comfortable velvet material everywhere. Perfect! And thank you ReviewTechUSA for letting me know of this product!
Mateo G.

United States
12/31/2021
Best switch goft ever
An amazing accessory that gives the switch lite a stand and makes it so much easier to handle for hours at a time without cramps
Mariano L.

United States
12/31/2021
Im impressed with this
So I just got my Switch lite I know I'm late to the part but I'm a hand held gamer and buy grips for my handhelds because I have hands not just fingers and this grip doesn't disappoint. I am completely happy with the quality and the comfort of this grip. I haven't tried any other grips but I wont need to because this thing is perfect! The case is a great add as well but only if you plan on bringing a extra bag on the go for headphones or a charger I wish I would have went with the bigger case but this I know my switch will be protected in no doubt Thanks guys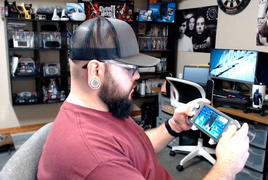 Richie Deschauer Jr.

United States
12/23/2021
Really necessary
One of those items that once you try it's hard to go back. Incredibly happy and the case is super high quality too.
Marvin Z.

Germany
12/22/2021
Fantastic
It is so relaxing using the grip on the Switch light. Also so carrying Case is high quality. Would habe been awesome to get it in grey matching the Pokémon BDSP Switch light Edition. Would 100% recommend that grip. Hopefully Satisfye will Release a Store in Europe because the delivery to germany is a bit long and expensive.
Sierra A.

United States
12/21/2021
Love it!
As someone with a bad wrist this grip has saved me a lot of pain and made gaming on my lite so much more comfortable! Great quality from both the grip and the case!
Jurrian K.

Netherlands
12/21/2021
Order shipped to Netherlands
Happy with service. Obviously it took some time to get to the Netherlands, but duty and taxes were taken care off with a qr code provided with it. Great product that feels really good in the hand. Made the switch lite alot better to handle!
DANIEL L.

United States
12/17/2021
zengrip go slim bundle
i think the zengrip is amazing. i cant stop playing my switch ever since i got the grip. thank you for making such an amazing product.
Brendan K.

United States
12/16/2021
Great Product!
Saw this grip sponsoring multiple youtubers. Thought I'd give it a try. And I'm definitely not disappointed. It's so much more comfortable holding my Switch Lite now. The case is a lot more sturdy than the "official" Nintendo case that i bought with the system. And the system actually fits properly in the case. I'm getting an original Switch for Christmas and will definitely be getting the ZenPro Elite package. I would absolutely recommend these guys to any and all Switch owners! 10 out of 10.
nou s.

United States
12/14/2021
zen Grip for my Switch lite
SUper Comfortable.. i enjoyed playing my switch more with less hand cramping..
Zachary W.

United States
12/14/2021
Love your products!
Haven't used this one for myself as it is a gift for my cosuin, but I have a grip myself and have even bought the Beatemups special edition since I like it so much.
Tom G.

United States