ZenGrip Pro - Tropical Edition
ZenGrip Pro - Tropical Edition
ZenGrip Pro - Tropical Edition
Hurry!
only

535

left in stock!
Introducing the ZenGrip Pro Tropical Edition for the Nintendo Switch®
Includes: ZenGrip Pro + Two Thumb Pads in Matching Selected Color
Available in Sky Blue or Palm Green
The following shipping options are available at checkout:
Domestic + International Shipping Available
2-Day USA Shipping Available
2-Day Shipping
Available 2-day shipping for all US addresses.
Buy American
Owned, operated and designed in California.
Gamers Love Us
More than 20K 5-Star reviews. Really.
REVIEWS
Customer Reviews
Filter Reviews:
grip
Switch
hands
colors
mode
Satisfye
Animal Crossing Switch
case
wife
green
Amy .

United States
02/26/2021
LOVE THIS
I was very impressed with the original order. It arrived quickly with no trouble at all. The Tropical Grip is absolutely 100% worth purchasing. I have carpal tunnel syndrome and arthritis and this grip is so wonderful that I can play for hours. In fact I just ordered the Pro Grip so I have one that will match any skin I use. I would definitely recommend this product. Thank you Satisfye and Beatemups from YouTube which is where I found out about this product.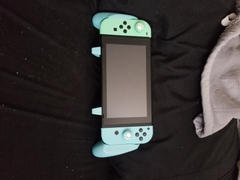 Sarah B.

Canada
02/21/2021
Really good
The colors are perfect, and the plastic feels decent. I'm the envy of my roommates when I have it on. I play a lot handheld, and this definitely keeps my hands from cramping. It also stays on securely with the rubber bits, which is good because it adds an extra layer of protection the the sides and bottom. Overall I'm happy with my purchase.
Ionut D.

Romania
02/16/2021
Greatly improves the grip and the comfort of the Switch. Definitely recommend.
Krystle H.

Australia
02/16/2021
Game changer!
Best accessory for the Switch. Makes playing in handheld mode a million times more comfortable. The grip itself is so much softer and nicely textured than you'd expect, and the design makes it super easy to change out without a fuss. Definitely the best Switch grip out there. 10/10 recommend
geri c.

United States
02/15/2021
Great Product
Bf loves it. Enough said!
JP
Joshua P.

United States
02/12/2021
Very comfortable, and easily dirtied.
The grip is by far the most comfortable grip I've used. Just beware the grip will look dirty along the seam very quickly.
Naomi B.

United States
02/09/2021
Comfortable
I love the feel of this grip! Gives the feel of almost like a PlayStation 4 controller to the joycons. I have small hands and still find it comfortable, large hands will definitely appreciate this over playing handheld without the grip.
Jasmine P.

Canada
02/07/2021
Exactly what I wanted!
It works great, it feels really high quality, and it looks awesome with my animal crossing themed switch! ☺️
César C.

Mexico
02/04/2021
Feels amazing!
I don't know how I never had this before, the grip feels awesome, my girlfriend n I love it, I bought an animal crossing bundle with 2 grips and my switch has never been out of it except for charging. The colors are really pretty and match perfectly with the Animal crossing special edition switch. Really glad I finally got this, my hands are really grateful.
Kenneth A.

United States
02/03/2021
Best Switch Accessory Hands Down
I've been so satisfied with my grip that I've purchased 4 additional over the past few months to gift to family.
Parminder A.

Canada
02/03/2021
Great quality product
Excellent grips, good quality make the switch experience even better
CC
Carol C.

United States
02/03/2021
Excellent quality product - arrived fast!
I love my new ZenGrip Pro and it matches my Animal Crossing themed Switch. It's so much more comfortable than holding the Switch by itself. I also love how quick it arrived after I ordered! I actually expected that it might be weeks before it arrived, but it was just a couple of days. I heard about this product from the YouTube channel BeatEmUps, who has become one of my favorite YouTubers since I got my Switch and was looking for game & accessory reviews.
John A.

United Kingdom
02/03/2021
Fits like a glove
Fantastic. The product exceeds expectations. Makes hand held playing so much more enjoyable! Great investment
George L.

United States
02/02/2021
Zengrip pro tropical
Great my daughter says it's so much easier to play with this grip.
Elena L.

United States
02/02/2021
Never play without it!
This Grip is literally a lifesaver and the best thing ever. I never play my switch without this on, it makes it even more comfortable playing in handheld mode which is what I mainly play in. The color is also gorgeous(I got the blue one). The fit is really tight so if your switch has any type of skins or case they may not fit. I had to take off my clear case from Nyko to use this but since my switch stays docked unless I'm using it I'm okay with not having a case on it.