(Domestic + International Shipping Available)

The Ultimate Gaming Bundle for the Nintendo Switch Lite

®
Includes: ZenGrip™ Go,  Elite Grip Case
, two (2) white thumb pads, USB-A to USB-C charging cable
Description & Features
What's Included
Our ZenGrip™ Go Elite Bundle features the new ZenGrip™ Go and everything you need for on-the-go gaming. With added room for a full-size power bank and USB-A to USB-C cable included, your Switch Lite can charge wherever your busy life takes you.

The ZenGrip™ Go Elite Bundle Includes:


ZenGrip™ Go - The asymmetric and ergonomic design of our ZenGrip™ Go fits small to extra large hands for more comfortable gameplay.

ZenGrip™ Go Elite Case - The premier case for your Switch Lite - you sacrifice nothing and carry everything. Designed to hold the Switch Lite + ZenGrip™ Go in maximum style, with room for 14 games and added room for a full-sized power bank.

USB-A to USB-C Cable - Low profile cable with 56k Ohm Resistor safely charges your Switch Lite.


Pair of White Thumb Pads - Slightly raised surface with added texture for superior control.




The ZenGrip™ Go Elite Bundle Comes with a Three-Year Limited Manufacturer's Warranty.














Items included:

ZenGrip™ Go

ZenGrip™ Go Elite Case

USB-A to USB-C charging cable

White thumb pads (2) for Switch Lite
Customer Reviews
Filter Reviews:
grip
case
Switch Lite
hands
quality
bundle
Satisfye
games
everything
accessories
chun c.
United States
11/27/2020
Zengrip
Great and super easy to grip.
William B.
United States
11/19/2020
Must have for Switch lite
Absolute wrist saver
ernie t.
United States
David E.
United States
11/12/2020
Awesome product!
The case is well built and the grips also serve as a stand.
Josh A.
Israel
11/11/2020
I LOVED IT!!! Absolutely Worth it for better Switch Lite experience and easy on the hands
as much as i love my switch lite, is not very comfortable to play for long hours without a proper holding grip. I was looking for a while for a proper switch lite peripherals and a case. i'm very happy that many places recommended me "satisfye" for switch peripherals before I went elsewhere. the "ZenGrip Go Elite Bundle" is exactly want I wanted for playing my Switch lite properly for long hours or even outdoors. the holding ZenGrip is amazing on you're hands and playing the switch lite is finally enjoyable and comfortable!. switch elite case itself is excellent. finally a proper high quality case for my switch lite which isn't too small or cheap knock-off and I can put almost all my switch stuff inside. the only down side I wish it was slightly bigger to put the switch's pretty big AC adapter. anyway highly highly recommended!!!
ROBERT D.
United Kingdom
11/09/2020
Excellent products
Add the product ship to UK how to pay an extra £18 before they would deliver it. It is the best product to use with the Nintendo switch lite I'm a 55 year old male with blarge hands really useful for me to use as it positions my fingers and thumb exactly where I want them to be on the console.
RB
Robert B.
United States
11/05/2020
Love it
I completely love everything about this product. It has made my whole switch experience more fun and entertaining. I only wish that we had the option to select a black grip if we wanted. But this is definitely a must have!!
River L.
Canada
11/02/2020
However the grip does have a creaky sort of fit, like it feels like it has give when holding it in certain ways, like there's a piece broken even when that isn't the case. Other than that, having the grip takes a lot of strain off my hands and I highly recommend it. The carry bag is very useful, I can even fit a New 3DS XL inside the zipper-pocket.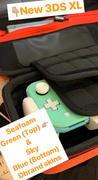 Chelsea
United States
11/01/2020
Love the product!!
The grip is fantastic. I can't imagine playing without it. The material used on the case feels and looks very high quality. Additionally, the case is quite big, so I don't think it's the most convenient for daily travel. If you travel occasionally or like to have everything you need or might need with your switch at all times, this case is perfect for you as well. I've heard from a few other reviews that the thumb pads aren't the best as they block the B button. Personally, it didn't really bother me that much, but that's because I have small hands. Overall, it's a great product, and would definitely buy it again! The extended warranty is amazing as it goes on for three years; just make sure to register your product after purchase - don't wait it out.
Brian R.
Canada
10/29/2020
Night and Day
I could never play my switch lite more than a few minutes because My hands would get too sore. I play comfortably every day now. One of the better gaming purchases I've made.
Jeff H.
United States
10/25/2020
Lots of value
Such a professional product. Makes the Switch Lite a lot easier to hold, freeing up your fingers to work the controls more easily. The case is super roomy (it's a big case!), with lots of space for chargers, games, accessories, etc.
Nicholas C.
United States
10/22/2020
2nd purchase
I initially got one for my switch lite and liked it so much I got it for my dock switch for just around the house. I haven't used a controller in table top once since I bought it due to the comfort level for my very large hands. Much by for adults
Annabel A.
United Kingdom
10/22/2020
good product
My over experience of your product is good and comfort and play nintendo switch lite for longer period of time. also like the design of the product and the carry case as a bundle.
Lori G.
United States
10/12/2020
Love it!!
This is by far the best case I own!! It really helped my hand from going numb.
Mychael W.
United States
10/08/2020
Awesome!!!!!
A must have when gaming out tough!