The Ultimate Gaming Bundle for the Nintendo Switch Lite®
Includes: ZenGrip™ Go
, Slim Grip Case + two (2) white thumb pads
DESCRIPTION & FEATURES
WHAT'S INCLUDED
Our new ZenGrip™ Go Slim Case allows you to pack your Switch Lite essentials in a sleek protective case for the best on-the-go gaming experience. Designed to hold the Switch Lite + ZenGrip™ Go in style.


Product Details:

Premium quality zipper for secured storage while you're on-the-go

Hardshell EVA exterior material for the best protection for your Switch Lite

Protective outer grooves to prevent unwanted pressure on Switch Lite joysticks

Soft, plush interior provides a scratch-free environment for your Switch Lite, ZenGrip™ Go+ accessories

One game sleeve to carry up to 8 of your favorite games

Clips attach to the back of the Case to use our Shoulder Strap with 360-degree swivel technology

The ZenGrip™ Lite Slim Bundle Comes with a Three-Year Limited Manufacturer's Warranty.

Items included:

ZenGrip™ Go

Slim Grip Case

White thumb pads (2) for Switch Lite
Customer Reviews
Write a Review
Ask a Question
Filter Reviews:
grip
case
Switch Lite
hands
Satisfye
quality
Lite
bundle
comfort
buttons
12/04/2019
Lance W.
Singapore
Satisfyed once again!!
Did a pre-order on the SwitchGrip lite slim bundle during the pre-order period and it arrived 2 days before the stated date!! Totally didn't expect that I would be able to receive my Christmas gift early!! Can't express in words how much I love the case itself as well as the SwitchGrip lite !! Once again, I am very satisfyed !!! Keep it up and hope to see more upcoming products from you, Satisfye !!! ❤️❤️
04/12/2020
Sheila W.
United Kingdom
Great item but terrible shipping!
The grip a 5 star item, but read on... The grip is really as good as all the reviews say it is! My issue is that I'm in the UK, ordering from an American website and not being told that the item ships from China. So expected shipping went from 1 week to 4 and oh let's stick an customs charge on top that add 65% of the items value on top. So a £25 item just cost me the best part of £40 and took 4 times as long as it should to arrive. I know postage isn't Satifye's fault but the company must be large enough now to either have a European warehouse or sell through the likes of Amazon. Anyway in my experience - item is great - postage is terrible!
01/03/2020
Nathan C.
Australia
Is the switch lite grip as comfortable as everyone says?
I have been using the switch lite grip for just under a month now and I have to say it is pretty good. My expectation for this grip was so high and with so many of my favourite YouTubers talking it up I couldn't wait to try it out . Firstly, I like the way the grip looks on my switch lite and the grip fits great around my switch. The case is second to non , I know my switch is safe when it is tucked away safely in my new slim case. But I can't ignore the fact that the grip feels significantly heavier when it's on the system. My hands still get cramps after playing for more than 45min, which is ironic since I could debate that even without the grip my hands stayed comfortable for about this periods of time. Overall I'm glad I have bought this grip, I wish I bought the grip for the original switch since I feel the grip would make a difference due to the size but the switch lite is already so much smaller , not 100% sold on the idea that the switch lite needs a grip. Wouldn't bother going out and buying this product if you already find your switch lite is comfortable to play. Overall great product , if you have a money I recommend you to try it for you self . Ps postage was good , I did received an email stating my purchase was getting ready to be posted but it took almost a week for the tracking info to appear so that was misleading for me. So Instead of postage being 13days from purchase it was more like 15days.
12/15/2019
Jun
United States
Great for adult hands
I first got the Christmas bundle last year for the original switch. Just order the grip for the lite this Christmas. Thanx
04/07/2020
Reed G.
United States
12/23/2019
jon n.
United States
Amazing grip, decent case
The grip itself is amazing! It feel like I'm using a full console controller. I've tried the analog stick extensions and they're pretty nice too. I went with the slim bundle to keep down on size, but having it in hand, I do regret not getting the full size case. The size difference isn't that big, and I don't have any space on the inside to fit a battery case. To fit earbuds I have to smash them under the switch as there is zero room above, and it's not a good experience. My verdict, get the grip, and get the bigger case.
03/07/2020
Patrick F.
Canada
01/22/2020
Rob .
United States
Handheld Gaming Perfection
The Switch Lite on its own is an attractive console and you CAN play it relatively comfortably without any added accessories. However, when you read reviews of the Switch Lite claiming the right thumbstick is a bit awkward to use, especially in games that require use of the ABXY buttons at the same time, those reviews are correct. It is possible to play with your pinkies holding the console up, but this is less than ideal. All in all, I can play maybe up to a half hour without getting numb tingly hands. The SwitchGrip Lite is a DREAM to use: the Switch Lite slides in easily but is secure, the handgrips feel solid like a next-gen console controller, and they position your hands perfectly to work the thumbsticks and buttons, almost like it was attached to the Switch Lite to begin with. Your hands are also pushed away from the screen so it draws your attention into the screen for a more immersive feel. Playing for well over an hour is incredibly comfortable. I know there are other grips out there from other manufacturers, but I cannot imagine they could be as much as a gaming revelation as the SwitchGrip Lite. Satisfye's design leaves the shoulder buttons uncovered, preserving their great clicky response. It is solid and does not flex during intense battles. I simply LOVE this and it will never be separated from the Switch Lite. The Slim Case is handsome, made from quality fabrics with a smooth zipper. No, it doesn't fit Nintendo's bulky AC adapter, but it does fit a few games and the SwitchGrip/Switch combo, and has a nice carrying handle. All while looking fantastic ! The included thumbstick pads are nice and improve playability even more. I did not find they impede 'run' speeds as some players have observed. My must have accessories would be the SwitchGrip Lite with case of your choice, quality glass screen protector Gulikit Bluetooth adapter for wireless buds (does not work well with Apple AirPods, but any APTX low latency buds should work very well. My Bose soundsport wireless work with unnoticeable latency) 128gb microSD card ( I purchased the Nintendo Licenced Sandisk one, mostly because it had Toad on it). If you are on the fence if you need this SwitchGrip Lite, trust me. You NEED this.
01/01/2020
ANDY V.
United States
its a good product
Its a great product and serves its purpose well, the grip itself makes using the switch lite a lot more comfortable, like using a pro controller on the go. The case is nice too and just as feature rich and secure as the OG version. However my only issue with it is that its nearly as big as the OG switch carry case, i get its supposed to support the grip as well but it takes away from the added portability i bought the switch lite for in the first place. So i don't usually find myself using it as much as i did the OG version. but for anyone who only uses a switch lite for things outside of portability, it is a great product.
12/23/2019
Ronald C.
United States
Switch holiday bundle
Has been absolutely amazing. I liked it soo much, I bought another one for my wife's switch. 10/10 highly recommend. Rich at ReviewTechUSA sold me on it and I have loved it ever since.
08/01/2020
Jason C.
Canada
05/16/2020
Nathan T.
United States
RF
04/30/2020
Rosie F.
Australia
This grip is bomb
I love this grip - my hands would cramp holding my switch lite only after about 15 mins of gameplay - no issues with that anymore. The backs of the handles are slightly rubberised which makes it even more comfortable to hold. Love that it's got a stand to keep it propped up on my desk. The case is also great quality - velvety interior and solid exterior to protect from bumps and drops. Spend the extra dollars and get this bad boy - highly recommend!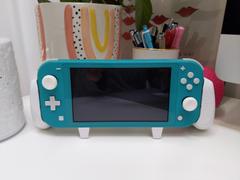 03/25/2020
Rosemblim L.
United States
It makes the Switch Lite better
I bought my grip after several coworkers purchased their grip for the regular switch. I looked for alternatives but nothing else came close. Purchased my grip and love it. The case and the thumb grips are of the highest quality also. If you own a switch (lite or regular) you need this for extended handheld game play.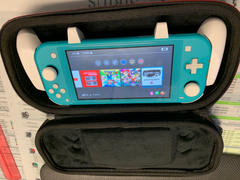 02/28/2020
Kelly L.
United States
Had to have one for all my switches
Love the satisfye grips! So comfy and nothing else compares! Now I play my switch handheld exclusively so my wife can pick what she wants on the TV. Happy wife happy life!