(Domestic + International Shipping Available)

The Ultimate Gaming Bundle for the Nintendo Switch Lite

®
Includes: ZenGrip™ Go,  Elite Grip Case
, two (2) white thumb pads, USB-A to USB-C charging cable
Description & Features
What's Included
Our ZenGrip™ Go Elite Bundle features the new ZenGrip™ Go and everything you need for on-the-go gaming. With added room for a full-size power bank and USB-A to USB-C cable included, your Switch Lite can charge wherever your busy life takes you.

The ZenGrip™ Go Elite Bundle Includes:


ZenGrip™ Go - The asymmetric and ergonomic design of our ZenGrip™ Go fits small to extra large hands for more comfortable gameplay.

ZenGrip™ Go Elite Case - The premier case for your Switch Lite - you sacrifice nothing and carry everything. Designed to hold the Switch Lite + ZenGrip™ Go in maximum style, with room for 14 games and added room for a full-sized power bank.

USB-A to USB-C Cable - Low profile cable with 56k Ohm Resistor safely charges your Switch Lite.


Pair of White Thumb Pads - Slightly raised surface with added texture for superior control.




The ZenGrip™ Go Elite Bundle Comes with a Three-Year Limited Manufacturer's Warranty.














Items included:

ZenGrip™ Go

ZenGrip™ Go Elite Case

USB-A to USB-C charging cable

White thumb pads (2) for Switch Lite
Customer Reviews
Write a Review
Ask a Question
Filter Reviews:
grip
case
Switch Lite
quality
hands
bundle
Satisfye
games
everything
accessories
NQ
12/13/2019
Nathannael Q.
United States
Fantastic case, fantastic grip, fantastic cable, and fantastic design... Why are the thumb pads so terrible?
I absolutely adore this case and grip. They're fantastic, feel of quality (there is some minor slop--the zipper feels crunchy and cheap, some of the stitching or the material that covers said stitching is rough and kind of ugly, but I'm not much of an aesthetics person), the grip makes gaming better, and the case makes going better. With all of this, why is there not an included strap for the case? It doesn't have to be particularly robust or wide, but it should exist in the "elite" package for over 50 USD. Likewise, there should be an included microfiber cloth, even if it's small. On this same note, why is the fact that these ship from Hong Kong not made super apparent? I also received an answer about this "Priority Mail" shipping that I paid for super late and only after reaching out on social media. These small pitfalls lead me to the biggest about the entire kit: the thumb pads. These thumb pads are not a bonus. They are not a feature. They do not justify increasing the price of this product. They are poorly designed for the Lite; the edges of the pad will collide with the body of the Lite when PROPERLY installed per Satisfye's direction. After doing the "correct" install, I had to specifically calibrate the sticks to accommodate the fact that these included thumb pads interfered with them. With the advent of this, I had to go out and purchase some KontrolFreek thumbstick extenders that do not interfere with the basic mechanics of playing games. Buy this product, if you can afford it. It should be cheaper and more complete as the "apex" of this product line, but the thumb pads (and, to some degree, the lack of an included shoulder strap and microfiber cloth) make this a simple model-modified cashgrab that flies in the face of the quality of the design.
12/10/2019
Joe A.
United States
Pro Lite Bundle
Feels and looks great! Wish the case was another 1/2-1inch bigger as it's hard to fit the AC adapter inside, but otherwise great!
11/05/2019
Steven R.
Canada
Most Blessed Day
Bundle arrived today and it does not disappoint. Build quality is great, colour too. Case is a goodly size, fits all the stuff I need it to. And most importantly of all it feels fantastic in the hand, kind of wish that the included thumb pads were black but that is easily solved as I'm going to be ordering the Switch Grip Pro Epic bundle for a Christmas present.
04/08/2020
Keisha S.
United States
Absolutely Love
This case fits all you need to take your switch lite with the grip case wherever you want to go. Love that I can take a battery pack and the included accessories are awesome! The case feels of high quality and it looks super sleek. I love the white grip, it complements the switch lite very well. The grip itself I can't do without anymore, especially to play shooter games. It is extremely comfortable and it just makes sense! Thank you!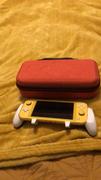 03/07/2020
Sebastian H.
United States
Worth the price
The case Is really solid and has a ton of space inside. It may seem big at first glance but the space and the sturdiness make it worthy and you get used to the size. The grip at the beginning felt weird because I was used to hand my switch in an already weird way but after an hour of playing with it the hands get use to it and feels awesome, you can't go back.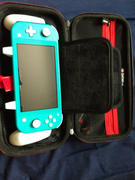 02/26/2020
Jordan M.
United States
11/30/2019
Stephen S.
United States
Awesome Job guys.
Got the Elite bundle for the switch lite. It is amazing, so much so that my wife had to get one for her switch and also had a friend and his GF also pick some up after trying it out with mine. Keep up the great work and I'll keep spreading the word about the game changing switch grip
10/26/2019
EDWARD P.
United States
Amazing purchasing experience
Have not received my pre ordered item yet but I was compensated for a false shipping notification with a " level up" grip and I'm more than happy using it! I'm very impressed with the communication and customer satisfaction driven service I've received thank you again!
10/26/2019
Gean S.
United States
Just awesome.
I wanted a grip and a case for my new switch lite and this with all the good reviews and such was just perfect. I just liked it if the shipping date was much closer to the lite release date.
10/26/2019
Nicholas w.
United States
Haven't got it yet
I haven't got it yet but I've used your products in the past and love them
09/16/2020
Jeromy A.
United States
Greatest thing ever
I have a hard time holding the switch cuz my hands are so weird so I used the grip and I have no problems holding it now with cerebral palsy it helps me out quite a bit
07/19/2020
Aurelio M.
United States
03/26/2020
Joshua D.
United States
I love your products!
I first picked up your grip 2 years ago for the original switch at Xmas time and fell in love it. It still works and feels great. I recently picked myself up a switch lite and tried playing it without a grip and quickly realized that it's just as cramp causing as the original and went straight to your site to pick up your new model for the lite. Needless to say I love it! I like the changes you made to add extra rubber on inside to make it a snug and safe fit. Highly recommended product! A++
03/24/2020
Alexandra M.
United States
Best. Purchase. Ever!
I love the grip but also the case that comes in the bundle! Once I got my Switch Lite I knew I needed a grip and these grips are life savers! It's super comfortable and not to mention it also stands up the Switch Lite, so in a way you have table top playing capabilities if you want to play Smash Bros and connect controllers to it for multiplayer. The case is sturdy so I'm not worried about throwing my Switch in my bag. Definitely worth buying! I can fit just about everything I need in the case except the charging cable. The thumb stick covers are also a nice touch! I've recommended these and will continue to do so because these have revolutionized handheld gaming for me!
02/24/2020
Shane G.
United States
500 star review
This company provides you with outstanding products from the STRONG outside of the case to the soft smooth inside you can't go wrong it provides you with protection and luxury!!! And wait it comes with the worlds most sleek and comfortable grip you can buy!!! Not only does it feel amazing but it also fits like a glove without rubbing or scraching your switch!!! I would not even consider another grip or case!!!