ZenGrip Pro
ZenGrip Pro
ZenGrip Pro
Hurry!
only

2258

left in stock!
Compatible with Switch & Switch OLED

ZenGrip Pro
Includes: ZenGrip Pro Gen 3 Black or White (choose color)
The new 3rd Generation ZenGrip Pro works with the new OLED Switch and the original Switch. Includes patent-pending True Free Float technology that keeps your switch scratch-free and improves airflow to keep your console cool and running fast. No mods, tools or extra parts to change the configuration for your console. ZenGrip Pro Gen 3 just fits both consoles like magic. Available in Black or White.
The following shipping options are available at checkout:
Domestic + International Shipping Available
2-Day USA Shipping Available
2-Day Shipping
Available 2-day shipping for all US addresses.
Buy American
Owned, operated and designed in California.
Gamers Love Us
More than 20K 5-Star reviews. Really.
REVIEWS
Customer Reviews
Filter Reviews:
grip
Switch
hands
OLED
Satisfye
mode
Beatemups
quality
case
design
Sydney R.

United States
03/19/2023
Second Satisfye Purchase
Had a Satisfye grip for my Switch Lite but recently upgraded to the OLED model, so I purchased another one! Love this thing
Shih S.

United States
02/24/2023
Sightly over price
The product was well made, but I doubt to produce a piece of plastic will cost over 2 dollars that's insane gross profit selling it at 30$+
Brandon U.

United States
02/14/2023
Awesome grips!!
These grips are amazing! I've bought other grips but these are the best ones, and the most comfortable!!
Brian C.

United States
Kerry M.

United States
01/27/2023
Loved it!
Great build quality and insanely fast shipping!
Olivia A.

United States
01/25/2023
Great product!
I used to have a lot of pain in my wrist when using my Nintendo Switch. With the ZenGrip Pro, it's much more comfortable to play games on my Switch! I definitely recommend this grip!
DANNY f.

United States
01/25/2023
Review
I recently purchased the white ZenGripPro from Satisfye. I am usually on the run for most of my busy adult life and this has definitely been a high quality and sturdy product that makes portable gaming much, much more comfortable. I have purchased other Satisfye grips before and have been overly content w/each one!! The simple design of it, how it perfectly fits the switch and real-controller feel to it are really great attributes to this product. I have been using these grips since they first released and I honestly can't imagine playing my Nintendo switch without them!! Keep those awesome colors coming too!!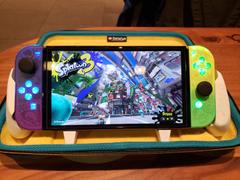 John L.

United States
01/22/2023
Works as advertised
Had this years ago when if first came out and gave to a friend when i got the Split Pad Pro. Recently got the OLED and repurchased but got a newer model. I forgot how great this was. It doesn't fix the problems with joycons but it quite literally makes the best out of a bad situation. As a grown up playing the Switch it is extremely uncomfortable and this makes playing with the joycons as good as it could possibly be.
Eric C.

Canada
01/16/2023
Switch Grip
The item came in very good condition however the wait time for the item was a bit too long for my liking other then that the Zen Grip pro for the Nintendo Switch was a very good purchase in my opinion.
Cj G.

United States
01/13/2023
Love it! But…
I love the accessory. It makes the whole console actually feel super sturdy. My only gripe that I have with this is that it makes my wrist feel a bit uncomfortable after long use due to the handles angling outwards. But if this is going to be something for extra grip, to make the console feel sturdy or even just for looks.. this is a great accessory
Amaya S.

United States
01/13/2023
Best switch accessory to have
I absolutely love the ZenGrip Pro. Shipping was fast, customer service is great, and the product makes a huge difference. It's easy to put on and has rubber stoppers that protect against friction between the grips and the switch, so the finish won't become damaged. They are definitely a must have accessory as they make the switch much more comfortable to use.
Zion H.

United States
01/12/2023
The zen grip pro is amazing!!!!
First time using this grip, it was simply amazing! The installation was as simple could be, slide it in and you can feel the strength of the grip! Comfortable to hold for long hours, and gives that sense of extra protection to the switch itself! I would highly recommend!
Kassandra Z.

United States
01/12/2023
Excellent Grip
This arrived much faster than I was expecting, and I immediately tried it out. It's a very comfortable fit, and I love it!
Ajay M.

United States
01/12/2023
Incredible Product for Non-Child-Sized Hands
Bought three of these so far! One for myself and two for Christmas as gifts! I highly recommend them for people whose hands are too big for the joy cons! The comfort is soothing!
Erica B.

Canada
01/03/2023
Grip
Excellent and comfortable