ZenGrip Pro
ZenGrip Pro
ZenGrip Pro
Hurry!
only

6848

left in stock!
Compatible with Switch & Switch OLED

NOW IN STOCK
Includes: ZenGrip Pro Gen 3 Black or White (choose color)
The new 3rd Generation ZenGrip Pro works with the new OLED Switch and the original Switch. Includes patent-pending True Free Float technology that keeps your switch scratch-free and improves airflow to keep your console cool and running fast. No mods, tools or extra parts to change the configuration for your console. ZenGrip Pro Gen 3 just fits both consoles like magic. Available in Black or White.
The following shipping options are available at checkout:
Domestic + International Shipping Available
2-Day USA Shipping Available
2-Day Shipping
Available 2-day shipping for all US addresses.
Buy American
Owned, operated and designed in California.
Gamers Love Us
More than 20K 5-Star reviews. Really.
REVIEWS
Customer Reviews
Filter Reviews:
grip
Switch
hands
OLED
Satisfye
Beatemups
mode
quality
design
case
Nathan D.

United States
06/28/2022
Overall spectacular. The one thing I would say is the left side of the grip is bulky making pressing the left dpad button a little difficult.
Erza

United States
06/27/2022
Must have
I've been using this for about a week now. And it is a must have. The only problem with the switch is that it's not made for people with big hands. After about 15 minutes of play my hands would turn to tv static. And this grip not only allows you to play for longer but it also takes away the possibility of breaking the slide that the joycon attaches to. If you own a switch you just have to buy this my only regret was not getting the elite package with the case.
Steven H.

United States
06/27/2022
Black zengrip pro
I love this things I can not play handheld without it
Jo A.

United States
Fuji S.

United States
06/24/2022
Durable and Comfortable
Built well and comfortable to use. Makes handheld playing extremely pleasant.
Mark M.

United States
06/24/2022
Solid
Awesome well thought out design. Quality materials and feel.
Elizabeth K.

United States
06/24/2022
I love the ZenGrip Pro
I love the ZenGrip Pro. I purchased one for my husband and he uses his most often. It doesn't look like much just by looking at it. I asked yesterday if I could try it just for the heck of it on mine. After placing it on my OLED it felt so nice and I felt even more in control. I immediately went online to order a second one for myself. I jokingly told him I don't even want to play anymore until mine arrives. Lol just kidding of course. We are in a competition and I need to practice for when we compete. I am so excited for it to arrive. Yay I definitely by all means do recommend this holder. It just makes the gaming experience just that much better.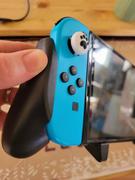 Alonso N.

United States
06/23/2022
recomendable to anyone who uses hand held often
it's high quality & durable so playing for long periods of time is much better than using it without it. 100% happy with this product. if you're looking at buying it & don't know how to feel about it, then i really really suggest buying it ! you won't regret it !
George S.

United States
06/23/2022
Great switch grip.
Good for using the switch in handheld mode. Very comfortable for smaller hands..helps for playing extended time without hand pain.
John G.

United States
06/23/2022
I love u
Wish I could also dock is my only complaint because it's glued to my switch it never leaves!!
nisarg b.

Canada
06/21/2022
Quality product
Good quality and timely delivery
Craig G.

Australia
06/19/2022
The product is great, the shipping is expensive and slow.
If you live in Australia, like me, then I'd recommend sourcing one from Amazon or another marketplace that has faster shipping times. I purchased from Satisfye because I prefer to buy direct from the maker so they get all the profit - but in this case, the shipping was just so slow (around 4 weeks) and very expensive at $26AUD. Like others have mentioned, I'd encourage Satisfye to organise a more efficient shipping carrier as this goes beyond the "It's COVID delays" reasoning. Now, on to the product. For context, I've been on a bit of a journey to find the most comfortable solution to handheld Switch gaming. I'm a 6'2 man with larger than average hands so have found many of the commonly accepted solutions (Hori Split Pad, Bin Bok) joycon replacements to be too 'flat' and 'shallow' for my hands - they did not solve the hand cramps and discomfort. I made the mistake of purchasing a really cheap grip from K-Mart (budget Australian retailer) which was similar in design to the Satisfye and it too didn't solve the problem, so I initially wrote the grip style off as a viable solution. I finally bit the bullet, and bought the Satisfye as a bit of a last-ditched attempt at a goldilocks solution and I can happily say that it successfully solves the problem. The grip feels high quality and is made of a hard rubber-like material, the Switch OLED fits into it like a dream and I don't fear that it's going to mark or damage the joycons (or console) in any way. The asymmetrical design is really clever and you can tell that Satisfye have put a lot of time and effort into ergonomics - I especially appreciate that around the back, just below the trigger - you can rest your fingers around the top of the grip, this feels just right. This is all a long-winded way of saying what most have already said before - this appears to be the essential product for Switch owners with larger hands - just fix the international shipping issues Satisfye! :)
Jonas D.

Germany
06/19/2022
Best grip ever
As one of the smallest YouTuber I can clearly recommend the satisfye pro grip :-)
Michael C.

United States
06/19/2022
Best switch grip out there
This is the best grip out there for the switch. This is the second grip form satisfye that i got one for the original switch and one for the OLED switch. If playing in handheld this is a must, no other grip that I have owned feels as good at the satisfye grip when playing for a long time.